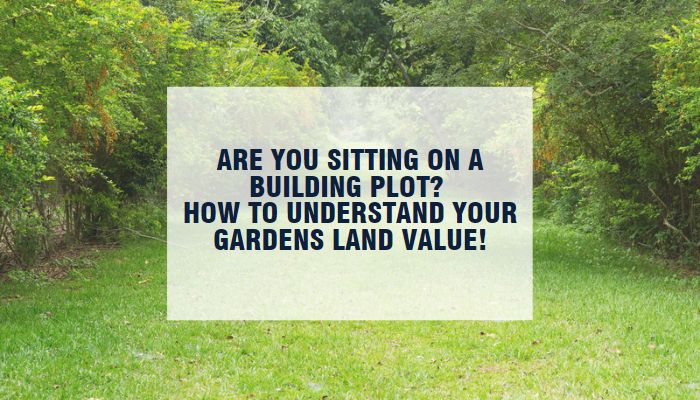 Company Update
Are you sitting on a building plot? How to understand your gardens land value!
Garden land is often considered an attractive property feature, providing space for relaxation, recreation, and even growing your own produce. However, it can also be a valuable asset that can significantly impact a property's overall worth. Understanding the value of garden land is crucial for homeowners, whether they want to sell, develop, or maximise their property's potential. In this comprehensive guide, we'll explore the various factors that influence the value of garden land and provide practical tips for determining its worth. We'll also discuss the role of land agents in Surrey and Hampshire, and how they can help you navigate the complex world of property valuation and development. Whether you're a homeowner or a property investor, this guide will provide beneficial insights into garden land valuation. So, let's dive in!
Understanding the Value of Garden Land:
For many homeowners, the garden is an important part of their property, not just in terms of its aesthetic appeal, but also its monetary worth. However, determining the value of garden land can be complex, with several factors to consider.
Land values are a crucial factor determining the value of garden land. The value of land varies based on several aspects, such as its location, accessibility, planning permission or potential for planning permission, and the size of the plot. Therefore, it is vital to research the current land values in your area to determine the worth of your garden land. Choosing whether your garden is suitable for a building plot can be a complex process that requires the expertise of a land agent. Land agents in Surrey and Hampshire specialise in the valuation, management, and development of land, including garden plots. They have a deep understanding of local planning regulations, environmental concerns, and market trends, enabling them to assess a garden plot's viability for development. Working with a land agent can help you identify the best use for your garden land and maximise its value, whether selling it for development or adding a property to your existing portfolio.
Land Agents in Surrey and Hampshire: Finding the Right Professionals
If you are considering selling your garden land, finding the right land agent to help you navigate the process is essential. A reputable land agent will have the expertise and knowledge to guide you through the legal and financial aspects of selling your land.
Bridges.co.uk is a land agent in Surrey and Hampshire, offering a wide range of services to homeowners looking to sell their garden land. Their team of professionals can provide a comprehensive service, including marketing, negotiating with potential buyers, handling the legal process, and advising you of the different approaches that can be taken including the pro's and cons of each approach.
How to Determine the Value of Your Property's Garden Land
There are several ways to determine the value of your garden land. One way is to consult your local Bridges estate agent who will put you in contact with our team who specialise in land sales. Your local Bridges agent can provide a market appraisal based on their knowledge of the local property market and the current demand for land in your area.
Another option is to hire a professional valuer to assess the value of your garden land. A valuer will consider various factors, such as the size of the plot, location, access, and potential development opportunities. The valuation report will give you a detailed breakdown of the land's worth and can be used as a basis for negotiations with potential buyers – our team can also assist with this option www.bridges.co.uk/land.
Factors That Affect the Worth of Garden Land: Explained
Several factors can affect the value of your garden land. One of the most significant factors is planning permission or the scope to secure planning. If your land has planning permission for development or is viable to secure permission, it's value will increase significantly. However, if the land does not have planning permission or scope, it will be worth significantly less.
The first step is to ascertain if the value is based on its current use (a residential garden) or if there is scope through the planning process for redevelopment.
If the plot is to be sold for re-development, then the value is often ascertained by looking at the GDV (Gross Development Value – The final value of everything that is proposed to be built) and then removing building costs, land values, services and any council contributions. There are many factors that play a part in a development valuation and its imperative to get an expert land agent involved.
If the land is solely to be used as a residential garden, then often a marriage value is applied, where a percentage of the value increase to the property that is acquiring the land is taken into account.
It is common for the party acquiring the land to cover the complete costs to both parties for concluding the transaction, typically solicitors and associated land registry costs.
Maximising the Value of Your Garden Land: Tips and Tricks
If you want to maximise the value of your garden land, you can employ several tips and tricks. One of the best ways to significantly increase the value of your land is to secure planning permission for development. This will allow potential buyers to build their dream homes, or develop the land for commercial or residential use.
Alternatively, you can invest in landscaping and maintenance. A well-maintained garden can significantly enhance the aesthetic appeal of your property, making it more attractive to potential buyers.
How Property Valuation Tools Help You Calculate the Worth of Your Garden Land
There are property and land valuation tools online, however it's important to remember that these online tools are only an estimate and are rarely accurate. They don't consider your property's unique characteristics that might influence its value. For example, if your garden is particularly large or has a special feature, such as a pond or mature trees, this could increase its value.
In conclusion, understanding the value of your garden land can be complex and multifaceted. Factors such as location, size, and potential use can all impact its worth, and it is essential to consider both short and long-term factors when evaluating your options. A good, local, well versed land agent will be able to give you practical advice on both the value, potential and options for at your disposal.
Want to know more about getting your land value? Contact Bridges land specialists today – We specialise in all aspects of land acquisition and disposal across Hampshire and Surrey. We will never forget what matters to you! More details available here Land Agents in Surrey | Land Agents in Hampshire | Bridges or call Tel: 01252 788101.
VALUE MY PROPERTY TODAY
Lets get started! Our valuations are based on our extensive knowledge of the whole of the market.
Get a valuation