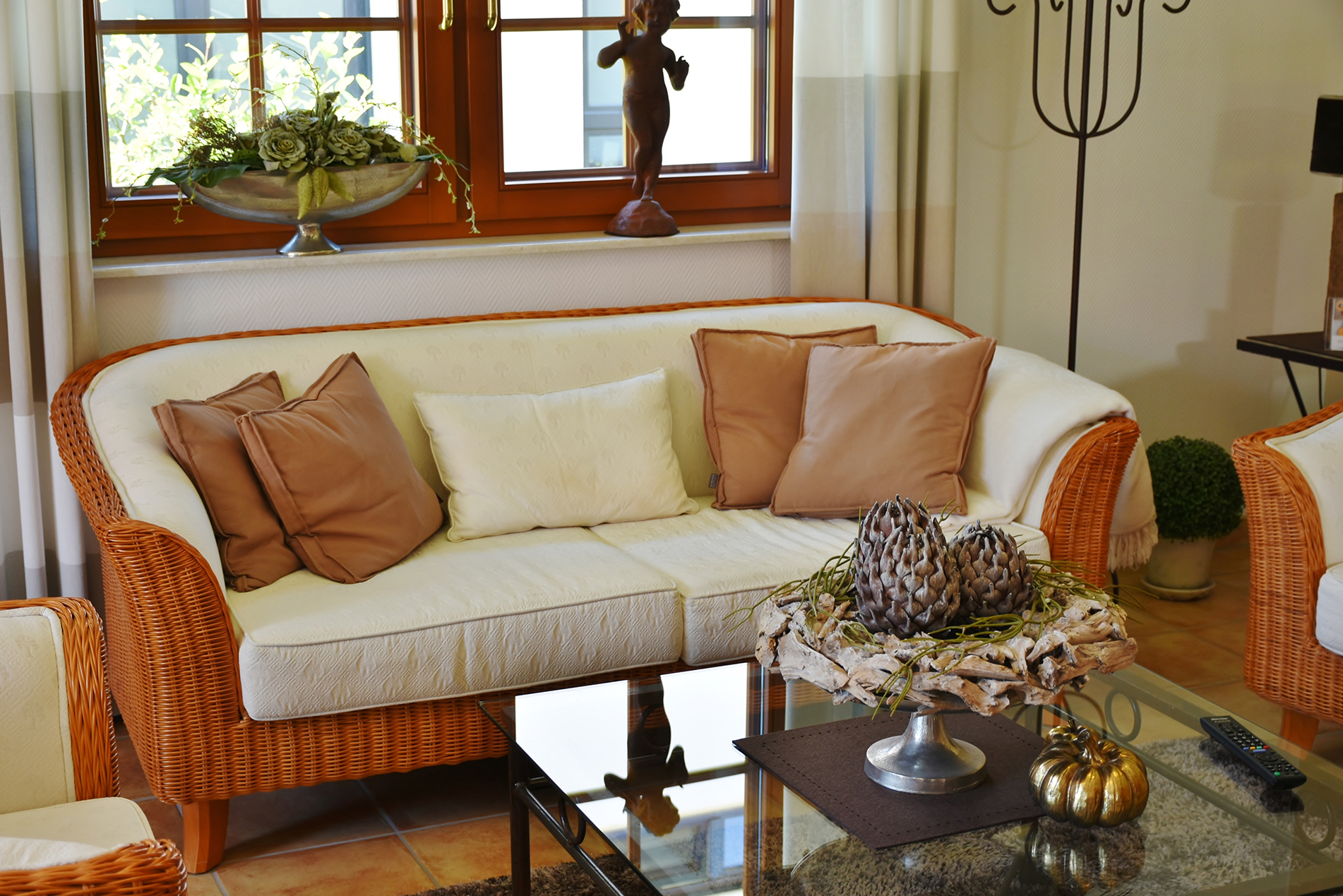 Home Inspiration
Autumn Home
Autumn offers a huge amount of inspiration, with its plethora of sumptuous colours evoking a sense of warmth and comfort. Deep reds, terracotas and a host of ambers are inviting and suited to using in your home this autumn as we explore…
Tone and Texture
Tweeds, wools and other rugged fabrics are a must have part of the autumn home and bring an element of snug, cosiness and texture alongside a palette of rich hues – from lavender purples to rich, dark and moody reds.
Russet Hues
Outside, garden displays of autumnal fruits and foliage gathered on woodland walks can create magical displays and will last well at this time of year. A table set up beside your front door, garden gate, or close to the house is ideal. You can periodically ring the changes as the seasons turn, much like a nature table. Old painted metal garden furniture and rustic baskets in accent colours are the perfect partners and receptacles for a natural display.
Warm Tapestry
For a really warm feel, mix an assortment of patterns, styles and textures. Spongeware ceramics o set with rustic, coarsely-woven textiles, printed burlaps and hessian
or rugged open-weave linens. Turning autumn leaves make an attractive accent scattered on a dining table, while gourds and decorative squashes can make a long-lasting display.
Earthy Ceramics
Hand-thrown, earthy ceramics in terracotta and salt glaze sit alongside turned wooden bowls and platters old and new. All these elements have a particularly tactile appeal and celebrate the handmade and the artisan. A woven linen fabric printed with oversized leaves reinforces the seasonal theme.
All in the Mix
For a home that oozes autumnal warmth and that is relaxed, add in some hints of warm, or cushions with woodland motifs. A woollen blanket, classic gingham and toning earthy stripes and tweeds. A jug or vase of branches laden with stock from the blackthorn lend more seasonal style.
Natural Inspiration
To reflect the seasons indoors choose warm natural woods and partner with soft ochre yellow walls to which you can add a strong textural element with woven rush matting. Collages of pressed leaves make inexpensive, easily homemade artworks and allow you to ring the changes with a dynamic natural display.
VALUE MY PROPERTY TODAY
Lets get started! Our valuations are based on our extensive knowledge of the whole of the market.
Get a valuation