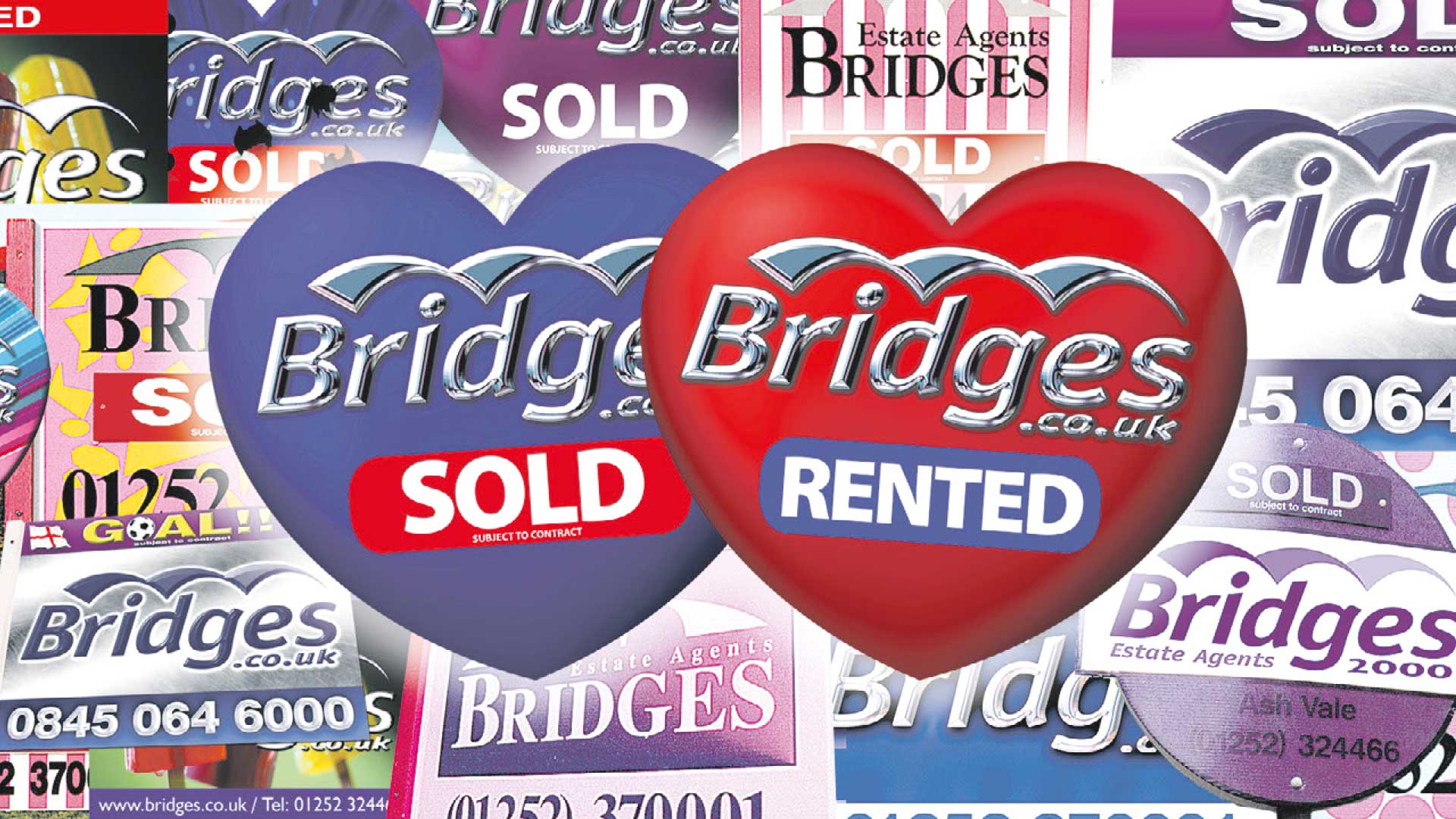 Company
Bridges 25th Anniversary!
2016 will be a very proud year for Bridges and, we anticipate, a very strong year for the local property market. We will, on 16th September, be celebrating 25 years since I opened the first office, in Ash Vale in 1991.
I can remember the day as though it were yesterday. Within 2 years Mark Kirby, Carlo Stocchetti, Dominic Barnes & Daniel Pockett had joined the team and, as they are all now Directors of the company, we are all looking forward to celebrating this landmark achievement together.
Much has changed since those early days, but certain things remain the same. The Bank of England base rate was 10.38%. My first instruction was to market a large Victorian 3 bedroomed detached house on Ash Hill Road for £69,950 and our first sale, a one bedroom apartment went for £41,500.
Nobody in this area used colour photographs; we were the first. It was all black and white photocopies, and barely legible text. The internet had only just been conceived by Tim Berners-Lee so 'licking & sticking' envelopes was a big chore back then. Perhaps my worst memory of those days is how, if you decided to use 10 estate agents to sell your home, all of them could put a board in your front garden! And all of them did!
What HAS stayed the same is our attitude to selling & renting. Of course there are new methods of achieving a result, Rightmove, email, social media etc, but that is not why we are able to reach this landmark anniversary in such style. It is because of our customer service and the way we are perceived, as a local company who get involved in the community. It always has been. Obviously not every sale or purchase is going to go smoothly and, at times, we have made our mistakes, but our integrity has remained intact through the 2 boom periods and 3 recessions since 1991.
We are going to make 2016 not just a great year for us, but for our community.
We have already arranged a raft of charitable events and we have agreed a new and unique partnership with the Phyllis Tuckwell Hospice who serve the same as area as us in a most incredible way. We are going to continue to interact with our communities by sponsoring as many schools as possible (we have always held education as our mainstay in sponsorship), and we want to improve even further the way we engage with the community not just this year but for the coming years. We want to display works from our local artists and hopefully get them noticed. We want to hear from local architects who are proposing new ideas and designs.
We want to hear from anyone who runs a 'different' kind of business that we can promote to our local buyers and sellers. Are you opening a new shop? Let us know, we will put the word out. Do you know of a local hero who should get some recognition? Let us know, we will honour them and make sure they are recognised through our social media, our offices and this newspaper. We will only be able to celebrate our 50th anniversary if we carry on doing the right things for the next 25 years!
Let's look forward to a very exciting and appreciative 2016!
VALUE MY PROPERTY TODAY
Lets get started! Our valuations are based on our extensive knowledge of the whole of the market.
Get a valuation