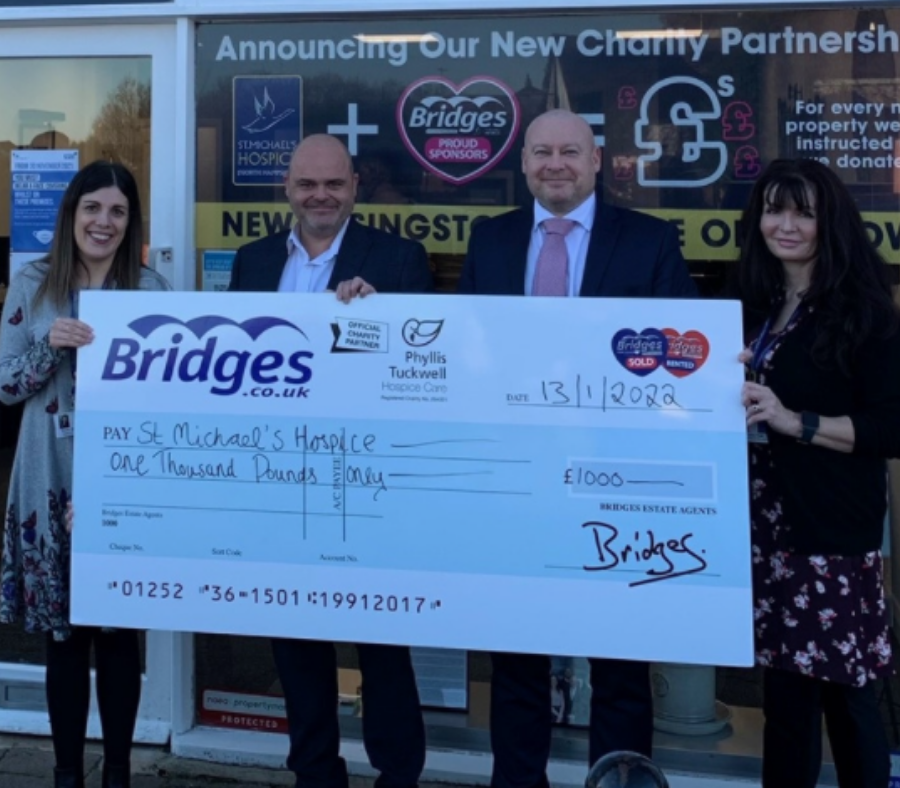 Community Company Update
Bridges and St Michael's Hospice – The Update
Our Hook, Basingstoke and Surrounding Villages teams are proud supporters of St. Michael's Hospice (North Hampshire) and last week James (Associate Director – Basingstoke) and Kevin (Manager – Hook and Surrounding Villages) were delighted to be able to present Sarah Shearman and Lorraine Pink from St Michael's Hospice with a cheque for £1,000. These much-needed funds were raised via our St Michael's Hospice initiative that we ran at the end of 2021. The initiative, which started in September 2021, was a pledge from the Bridges Hook and Basingstoke teams to donate a % of every property listed to the hospice.
Carlo Stocchetti, Group Managing Director said, "St. Michael's Hospice is a charity caring for patients and their families needing end-of-life care, something that is very close to our hearts and unfortunately something that most will have some sort of interaction or family experience with at some point in their life. As part of our charity partnership, we will work with the Hospice to support them with a number of initiatives including fundraising by donating to the Hospice for each sale and let in Hook, Basingstoke, and the surrounding villages. We are proud to be able to make our first donation to this amazing local charity and we can't wait to see what more we can offer as charity partners this year and into the future!"
When we opened the doors to our new offices in 2021, we were keen to offer our new communities the 'Bridges Ethos and Values' of giving something back! This ethos stems from the belief that you get out of a community what you put into it! We can't thank the local community enough for the welcome and support for our latest venture and we are delighted to be continuing our initiative into 2022.
We look forward to building the partnership further over the coming months and seeing the team at our upcoming fundraising events.
To find out more about St. Michael's Hospice please visit: www.stmichaelshospice.org.uk
VALUE MY PROPERTY TODAY
Lets get started! Our valuations are based on our extensive knowledge of the whole of the market.
Get a valuation