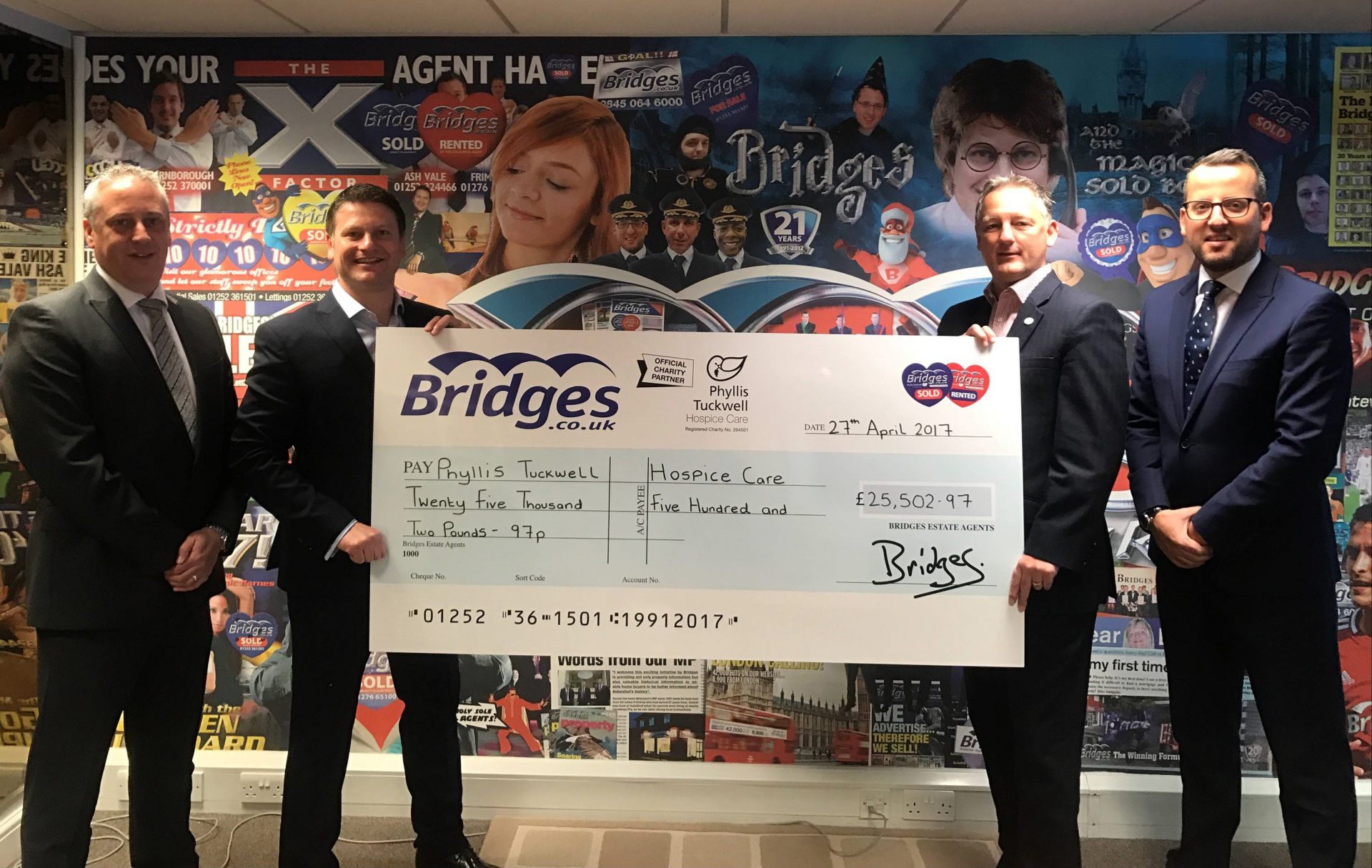 Community
Bridges Fundraising for Phyllis Tuckwell
Local Estate Agent Bridges has raised over £25,000 for Phyllis Tuckwell in their first year as corporate partners of the Hospice
Care charity.
The money has been generated by a series of fundraising events which Bridges employees have taken part in, showing their wholehearted support for Phyllis Tuckwell, which cares for patients and families who are living with a terminal illness, such as cancer, in West Surrey and North East Hampshire.
As well as taking part in Phyllis Tuckwell's skydive and Strictly Dancing events, Bridges staff have also organised their own fundraising activities. Football matches, cricket matches and exhausting treks across ten peaks in Yorkshire have all pushed the total amount raised higher and higher. In addition to this huge show of support, Bridges have also sponsored three of Phyllis Tuckwell's Hospice Care at Home (HCAH) cars, pool cars which are used by the charity's nurses to enable them to visit patients across West Surrey and North East Hampshire, who have chosen to spend their last days in the comfort of their own homes, rather than in hospital or at the Hospice.
"It has been a fabulous year and we would like to thank all of the Bridges staff who took part in raising this fantastic amount of money for Phyllis Tuckwell," said Nick Adams, Corporate Partnerships Manager at Phyllis Tuckwell. "It is with generous donations and support from local companies such as Bridges that we able to continue to care for our patients and their families at such a crucial time in their lives. We are really pleased to be able to continue our partnership with Bridges and look forward to working with them to raise money together again next year."
It has been a real privilege to partner with such a valuable local charity with such a fantastic set up," said Carlo Stocchetti, Group Managing Director at Bridges. "We are grateful to all of our staff who contributed their time and effort with fundraising and all those kind people who sponsored us. Without everyone's effort this wonderful goal would never have been achieved.
Every day Phyllis Tuckwell supports over 250 patients, relatives and carers – in their own homes, in the community, at the Hospice in Farnham and at the Beacon Centre in Guildford – through medical and nursing care, therapies, counselling, social work advice and practical support. All of its services are provided free of charge, but as the NHS/ Government only covers 20% of its costs, it has to raise over £20,000 a day to be able to do this, and therefore relies heavily on the support and generosity of the local community.
To find out more about the care and support which Phyllis Tuckwell provides for its patients and their families, visit www.pth.org.uk.
VALUE MY PROPERTY TODAY
Lets get started! Our valuations are based on our extensive knowledge of the whole of the market.
Get a valuation