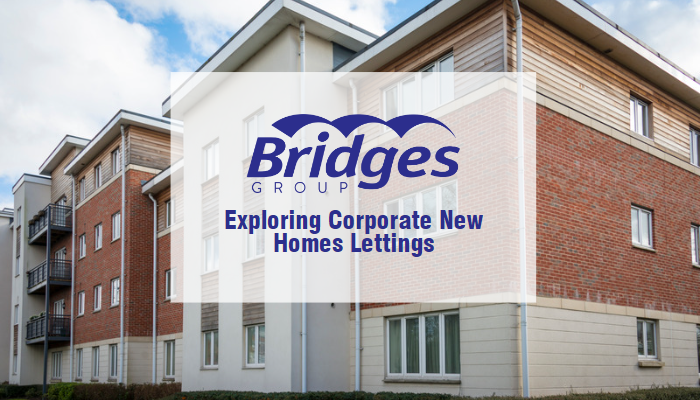 Company Update
Exploring Corporate New Homes Lettings
A Lucrative Opportunity with The Bridges Group to Expand Your Portfolio and Maximise Your Returns, All with Complete Peace of Mind
Become Part of Our Success! Our experienced Directors and Senior Managers built our Bridges Corporate Lettings Service for landlords through demand, to drive high volumes of the best quality tenants to your Build To Rent new homes in Surrey and Hampshire. Our proven track record helping many clients successfully complete tenancies for individual conversions through to multi-phase developments with several hundred units by PLC developers, is your reassurance of our excellence.
Synergy with our Land and New Homes team ensures that, in addition to fulfilling our clients' immediate need to find a large volume of tenants, one of our main sources of growth for our corporate/new homes business comes from the success we have in providing further build-to-rent opportunities to our clients that may not be on the market to the general public, enabling them to expand their portfolios and get there first. It is our local knowledge and experience in build-to-rent that sets us apart from everyone else, and we know that your success is our success.
Why Choose Corporate New Homes Lettings?
Our enviable position as market leaders throughout the region is built on our dedication to deliver high service levels.
98% of our staff live locally, so we have the best understanding of the nuances of every local market.
Specialist teams stationed in our 12 local and market-leading offices are focused on growth and recognize the importance of Build To Rent schemes.
We are proud to be the most dominant agent locally in this sector.
Our Directors and Senior Managers will consult with you and any stakeholders to create a bespoke level of service that matches and exceeds your needs.
Considered and intelligent results-driven marketing plans designed to achieve results.
Regular portfolio progress reports and review meetings.
Detailed bespoke portfolio accounting and reporting.
Be the first to hear about other development and land opportunities to expand your portfolio before marketing to the general public.
Peace of mind that your development can be completely catered for, from grounds maintenance and fire safety to tenancy management and minimizing void periods.
WE CARE! Not just about you as our client but for your tenants too, making for longer-term and stress-free tenancies.
Here's What Sets Us Apart:
Personalized Approach: We understand that each landlord has unique requirements. Our dedicated team provides tailored solutions for landlords, ensuring your investment goals are met.
Professionalism: We pride ourselves on our professionalism and attention to detail. From thorough tenant vetting to efficient property management, we strive for excellence at every step.
Our Team: You will work with our Senior Management team and Directors who have a demonstrated history in the corporate/new home lettings sector.
Our Success: For over 30 years, we have been working in Surrey and Hampshire and have had the pleasure of being a part of the ever-growing Build to Rent sector during this time. Our feedback through reviews is a testament to our success and experience.
The Latest Technology: Both our Lettings department and Land and New Homes department have access to the latest technology to deliver the highest possible level of service to you and your tenants, from seeking future opportunities through planning applications to how tenants report maintenance issues.
Explore Our New Guide:
Ready to delve deeper into the world of Corporate New Homes Lettings? Don't miss out on our comprehensive guide, designed to assist landlords in making informed decisions. Inside, you'll find:
Key Considerations: Gain insights into the factors that make Corporate New Homes Lettings an attractive choice, including location, property types, and rental trends.
Essential Tips: Discover essential tips for success, from property preparation and furnishing to pricing strategies and legal requirements.
Case Studies: Learn from real-life examples of landlords who have achieved success in Corporate New Homes Let
VALUE MY PROPERTY TODAY
Lets get started! Our valuations are based on our extensive knowledge of the whole of the market.
Get a valuation