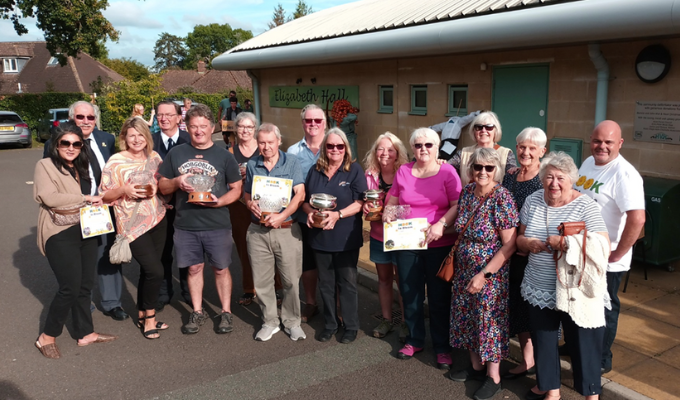 Company Update
Hook in Bloom – Village Garden Competition – THE RESULTS ARE IN!
Hook Village has been looking "blooming" lovely and the green fingered efforts of the local community have been on full display during the village's annual Hook in Bloom competition, this year entries have been of an exceptionally high standard across all categories and the judges, including Kevin from our Hook and Surrounding Villages office, were very impressed.
On Sunday 11th September 2022 Elizabeth Hall hosted the annual Hook Flower & Produce Show which we have supported since opening our doors in Hook in late 2020.
After the event Kevin,alongside Hampshire County Councillor Jonathan Glen and Hook Parish Councillor John Orchard proudly took on the marathon job of presenting the prizes to the well deserving winners!
All the category winners received their rosettes and the coveted Best in Show award this year went to Robert Herron.
Show day is also when villagers learn who has won the Hook In Bloom annual competition and the Scarecrow competition. This year judging the Hook In Bloom Competition was extremely difficult and volunteers had to go out soon after the competition closing date, at the start of the heat wave, so they could get as many photos as possible for the In Bloom judges to have a final say on the winners.
The HOOK IN BLOOM WINNERS 2022 are:
Bridges Estate Agency Trophy for the Most Attractive Front Garden – Michael Graham, Raven Road and Highly Commended Eve & Steve Kirk of Morris Street
The Batten Trophy for the Best Residential Hanging Basket – Steve & Sally Riley, 1 Myllers Lond and Highly Commended Maggie Kirtley of Goose Green
The Hook Parish Council Trophy for the Most Attractive Business Premises – St. Michael's Hospice Shop and Highly Commended The Pet Shop
The Worlock Trophy for the Best Hotel, Restaurant or Pub – Richard & Sally Sanders, Crooked Billet and Highly Commended The Hogget
Community Trophy – The Residents of Berry Court
Joint Winner the Hook Cross Trophy for the Best Allotment – Darren Nicholls
Joint Winner the Hook Cross Trophy for the Best Allotment – Georgie Youngs
The winners all received £25 worth of gardening vouchers or a suitable prize like tea for the residents of Berry Court, sponsored by Bridges Estate Agents.
SCARECROW COMPETITION
Winners of the Scarecrow Competition are – Kim Carswell No 4, 2nd Janet No 6, and 3rd Max Urie-Passingham.
Well done and thank you to everyone who took part in this fantastic community initiative, it makes such a difference to Hook village and the community.
To find out more about Hook in Bloom visit https://hookinbloom.org/  If you'd like to find out more about Bridges in the community visit www.bridges.co.uk/community and for more info about Bridges Hook and Surrounding Villages visit https://www.bridges.co.uk/branches/hook-estate-agents/
VALUE MY PROPERTY TODAY
Lets get started! Our valuations are based on our extensive knowledge of the whole of the market.
Get a valuation