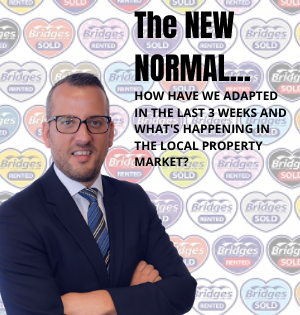 Company
Local market update – Is now a good time to buy or sell?
As the weeks go by and we slowly squeeze out of the drastic lockdown measures that were all enforced on us on the 23rd March, the world is starting to look like a different place as every day passes. Schools have opened in part, many workforces are returning to their place of work and the non-essential retail stores are opening next week inviting consumers back to the High Streets of Britain.
We have been back in our offices for 3 weeks now on the invitation of the government on the 13th May 2020. Typically, and in line with how quickly the lockdown came about, we were given just 12 hours' notice to open our doors and start moving staff back into our High Street offices, albeit under very different circumstances to that they left behind. Floors adorned with 'Please keep 2m apart' stickers, signs in the window stating that you should only come in if it's essential and a whole shelf full of PPE ready to protect our staff and clients when meeting face to face were in place when our teams arrived in their offices on Day 1, along with a full risk assessment for all offices. As we have always said, if you fail to prepare you prepare to fail and our fantastic HQ team had been working hard to make sure we were COVID compliant from the get go.
So, what has happened in the market since we were invited to return to the offices, it's different, very different in fact. The government advised that video tours must be seen first before a physical viewing takes place which has, of course, seen our physical viewing levels fall. However, the quality of the applicant actually viewing our properties has increased hugely, in fact before lockdown the national average of viewings before you attract an offer was eleven viewings to one offer, today as I am writing we are working at just four viewings to one offer. Yes, of course, the pre-viewing through video has helped this stat come down but what has really helped is the excellent work from our teams to take the qualification process of our buyers to a much more stringent level in line with government advice and making sure we communicate exactly why you can or cannot view the particular property you may be enquiring about.
Will Rosten from our Camberley office compounded this just this week when he was approached by an eager seller who had found a property and needed to move. After Will had explained the way we are operating and qualifying the seller instructed us to market at £1,100,000 and having put our video in front of 103 buyers, we had 3 selected to view the property which resulted in an effective sale within just a week. Although we are clearly not seeing the quantity of buyers we are used to, the quality is certainly there as long as you can unearth wants and needs, the motivations and timescales.
What has also been particularly evident in the property world during this time is how each and every business involved has become more amenable to helping each other achieve the end result for the client. Solicitors, mortgage advisors and removal companies have all pulled together to make moves happen and, dare I say it, even other estate agents have seemed more helpful coming out of lockdown, let's see if they will still be the same in another 3 months! I'm sure they will if we remind them what we can all achieve when we pull together.
Our New Homes department have reported a huge amount of activity over the last few weeks. Being one of the biggest operators in the land and new homes market in the area we came out of lockdown instructed to sell a number of brand new developments from Crondall to Camberley, Farnborough and Aldershot. Our expectation was that we would be besieged by the help to buy clients looking to get a foothold in the market having spent lockdown with parents or friends, however, we were quietly surprised that the influx of sales in the new homes market are coming from the private sector. With holidays cancelled and people spending very little perhaps this money has been put together to form a deposit and now is the time to buy a new property, it certainly seems the case if the activity in our new homes team is anything to go by.
Similarly, in our lettings department we have seen the lockdown easing create a bit of a bunfight in the rental market. Although we continued to rent properties throughout the period, we returned to our offices to be met by a huge number of enquiries directed towards properties with a garden. There are, of course, no prizes for guessing why a garden is the number one request for both tenants and buyers, the sunny weather and the request to stay home, save lives and protect the NHS will do that to you after 12 weeks. The lettings department have to abide by the same rules as the sales department in that a video tour should be seen before physically viewing a property, but we have witnessed some very different behaviour from tenants than we have of buyers. Tenants have been reserving a property based on just the video tour and moving in on the basis of the inventory, something that if you would have asked us 3 months ago, we would never have thought possible. We are being told time and time again we will all be experiencing a new normal, perhaps this is the one for the rental market?
Once again and you will know if you are a regular reader of our market updates, we can never not mention our wonderful staff both active and furloughed. Their resilience in a difficult time, their understanding of the company directives given and their empathy to the situation everyone is in has been nothing but amazing throughout and the directors of the company all wish to thank each and every one of them for their excellent and seamless work.
In conclusion, this period has been educational for us all and although we have always dared to be different we believe now that agents who cannot invent and re-invent themselves must be content with borrowed postures, second hand ideas and fitting in instead of standing out, to which we have always been the opposite, lockdown or not.
VALUE MY PROPERTY TODAY
Lets get started! Our valuations are based on our extensive knowledge of the whole of the market.
Get a valuation