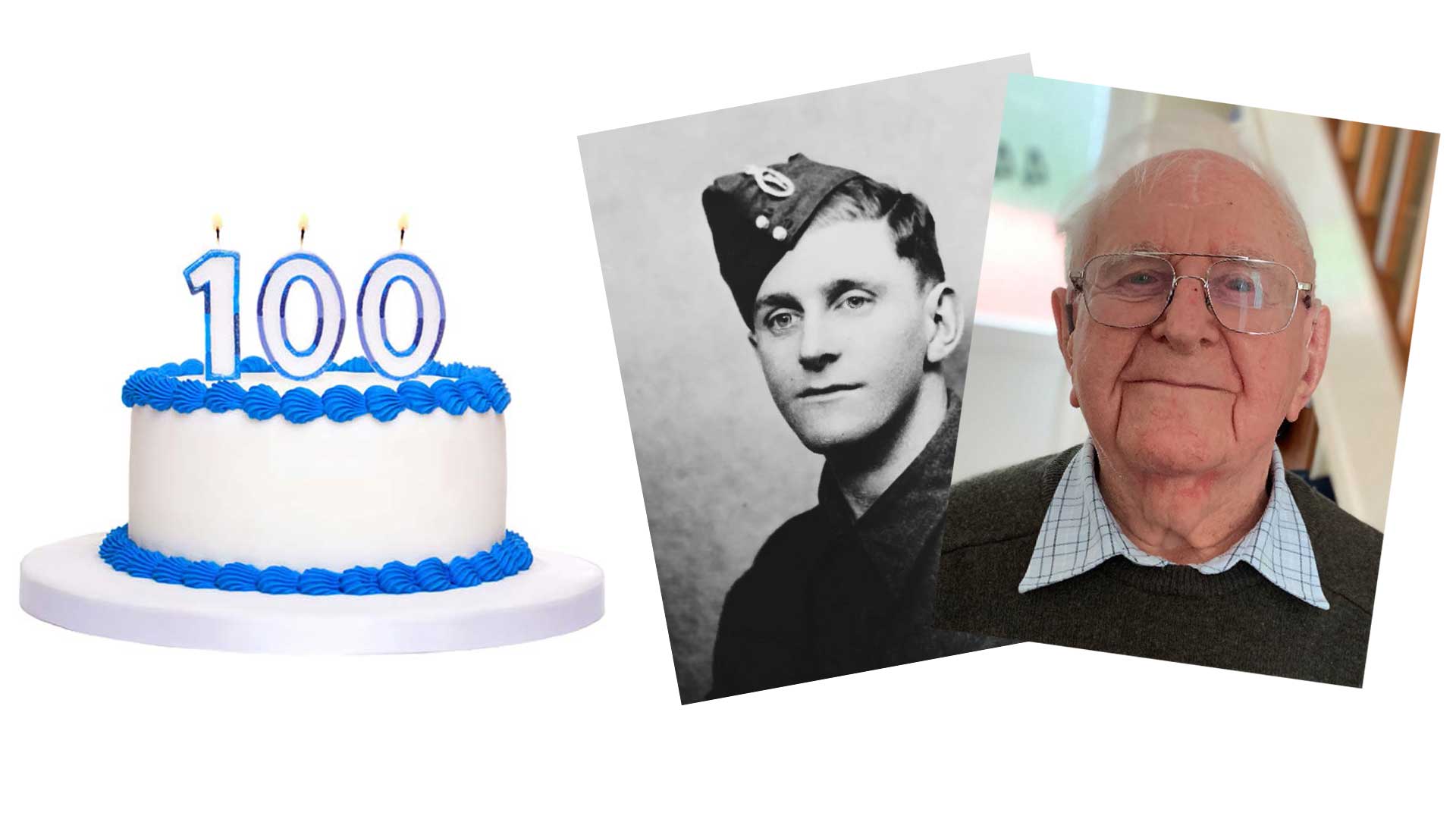 Community
Mr Gilbert – Our 100 Year Old Tenant
Meet Mr Gilbert Our 100 Year Old Tenant.
Where were you born?
I was born in Rochdale on the 23rd October 1918.
Where did you grow up?
In Rochdale. But as a young child I travelled to various countries.
Did you enjoy school?
Yes, I did. I went to a technical college and got my National Certificate and when I was in the first year of my higher national, they introduced this 'Militia' training scheme. So I was in the army, I came back and went on the reserve, but two months after I joined war broke out. Incidentally, one of the things that was interesting, when we first went to Catterick for training, the commanding officer addressed us and said; 'The soldiers cost the army a shilling and a horse five pound. That's your relative value.' Then, from there I went to France, North Africa and Italy.
At what age did you join the services?
I was 20 years old.
What service were you in?
I joined the Royal Chorus Signals and trained as a signal's electrician which was a highly paid profession. Although I was just an ordinary soldier, I got paid the same as a Sergeant because of my technical qualifications.
What did your job role involve?
I had a motorcycle and a little toolkit which I'd bought myself. The army toolkit supplied to me was a soldering iron and a couple of screwdrivers to repair radio sets. My job was to maintain, repair and service all the electronic equipment, radio sets and telephones. So, I had a toolkit and a motorcycle, I was mainly on my own. I went off all around the regiment, I had a workshop with all my bits and pieces in and one other chap to help me, we maintained all the electronic equipment all through the war.
If war hadn't have broken out, what job would you have wanted to do?
What I would have done, had I stayed behind, is completed my higher national and then carried on as an aircraft design drafter. But, after the war finished, I went back to the aircraft industry. Fortunately, being in the army teaches you how to use other people, it teaches you that you have people that you trust and people who look after you and make sure they are looked after.
Where were you in the UK for VE day?
No, I was in Italy. We didn't really know much about VE day. We were still fighting.
If you could travel back in time and tell your teenage-self something, what would you tell him?
Don't join the army! Get yourself a decent education and a job that you like.
What's one valuable lesson you have learnt through your life?
I honestly don't know, be happy that's the main thing, have a happy marriage that's the key to it all. If you don't marry, that's fair enough but a happy marriage is a wonderful, wonderful thing and children of course! I have three daughters.
How did you celebrate your 100th birthday?
Well, I got a letter from the Queen and a letter from our local MP. My daughters all came over, we spent the day talking and catching up so we were all too tired to go out. One of my daughters came over
from the Isle of Wight so the next day we all went to a very nice place in Farnham to have fish and chips!
How long have you been a tenant with Bridges?
This is the third year I've been with Bridges.
What's the best and worst thing about being a tenant with Bridges?
It's Ideal, what are the alternatives for me, a nursing home? I couldn't stand that. This is ideal, it's got the woods out the back, there's not a lot of trouble, well occasionally the neighbour when he revs his Ferrari up – but apart from that, you know, it's ideal. It's just the right size, it's marvellous. Bridges keep an eye on everything, it's very well looked after. I like having my own independence in the house.
Is there anything you think is missing today which was valued when you grew up?
I think people used to be much more friendly towards one another, but we were restricted in a way as we didn't get the same kind of news coverage as we get today. People used to be a lot more relaxed and friendly.
What's the most memorable holiday you've been on?
The most memorable holiday I've been on, well my wife and I used to go to Newfoundland as I was in the Newfoundland Regiment for most of the war. We booked this particular year to fly to Vancouver from London airport and we got on a 747 on the top deck. We were right at the top on the left-hand side and flew over Scotland, Iceland, Greenland and Northern Canada, it was absolutely fantastic! You could see everything, they had a running commentary of where we were going and where we were flying over. I've never had an experience like that in my life, it was wonderful, I doubt you could repeat it these days.
Do you have a favourite meal?
Yes, fish and chips.
What's your favourite tipple?
I don't drink, I'm completely T-total, but it's how I met my wife.
What happened was, it was Christmas 1942 and the Naafi girls put on a show for us with all this beer, and the girls in the Naafi arranged a Christmas party for us. So we went in and then the Scots grabbed all the drink, put it in their pockets and disappeared. I was left on my own with five Naafi girls, there was this beautiful girl with jet-black hair and the bluest eyes you've ever seen, and I thought, that's it, that's my wife.
Do you have a favourite song that you listen to?
Silent Night, I always cry when I hear it being sung.
Do you have a favourite sport?
Cycling… Oh and I like watching women's football. I think it's brilliant! I never watch men's football, but I watch every women's match I can. I've been watching the women's world cup it's great. I love the Tour de France too.
Do you have a favourite possession?
I've got a little box in my trouser pocket with a lock my late wife's hair in it. It goes everywhere with me.
Do you have any guilty pleasures?
Unfortunately, not, … oh feeding the squirrels does that count? They're my friends, I've got squirrels and wood pigeons. I feed the squirrels with the bird food and they come up and sit on the window.
VALUE MY PROPERTY TODAY
Lets get started! Our valuations are based on our extensive knowledge of the whole of the market.
Get a valuation