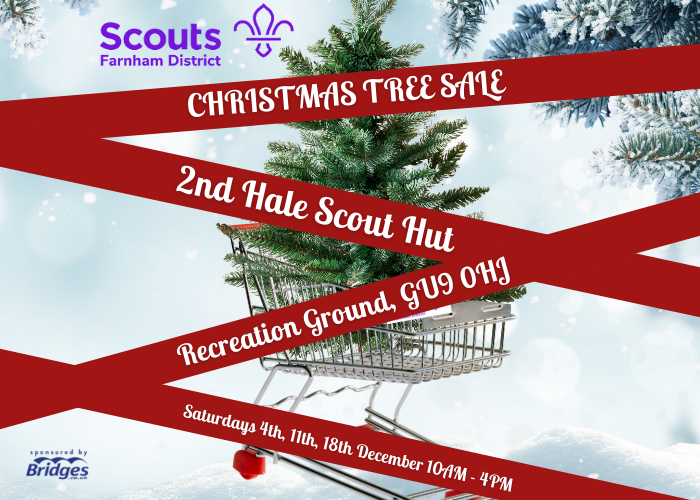 Community
Bridges Support Farnham Scouts Christmas Tree Sale
Wondering where to get your Christmas tree this year? Why not pop along to 2nd Farnham's Christmas Tree Sale and support this amazing community group?
On Saturdays throughout December 2nd Farnham Scouts will be selling trees of all different shapes and sizes from their hut behind the Hale Institute on Hale Road on the three weekends before Christmas 10am – 4pm.
2nd Farnham's Scouts will be selling Nordman Non-Drop and traditional Spruce Fir Christmas Trees to raise funds for their Scout, Cub and Beaver groups. Choose from 4-5ft, 5-6ft, 6-7ft and 7ft+ trees, priced between £20-£55—cheaper than the local garden centres!
Our Farnham Branch at Bridges are delighted to be supporting this innovative community initiative, we believe that scouting gives children great life skills and experiences that are fundamental to their future and self-development.
A little bit more about 2nd Farnham Scouts –
At 2nd Farnham we are excited to be a part of Scouting!  Our purpose is to deliver #SkillsForLife to as many young people as possible, enhancing the lives of young people and adult volunteers alike and equipping them to making the world a better place.  As a part of a worldwide movement, we are a part of the largest global youth movement.
We meet on a regular basis in term time and follow a carefully planned programme for Beavers, Cubs and Scouts that offers a range of skill development from outdoor activities to more creative approaches as well as developing experiences in teamwork and leadership – there is something for everybody in Scouting!
Scouting is for everyone of whatever gender, background or beliefs – no one is excluded, and we delight in diversity!  We are guided by our core values of respect for each other, respect for ourselves and respect for our world.  If you would like to learn more visit www.farnhamscouting.com.
Is your organisation looking for a sponsorship partnership? Bridges and Orchard Estate Agents have been forming long term sponsorship partnerships with local schools for the last 30 years. To learn more about this contact Emma on sponsorship@bridges.co.uk or visit Bridges Help The Community: Estate Agents That Give Back.
VALUE MY PROPERTY TODAY
Lets get started! Our valuations are based on our extensive knowledge of the whole of the market.
Get a valuation