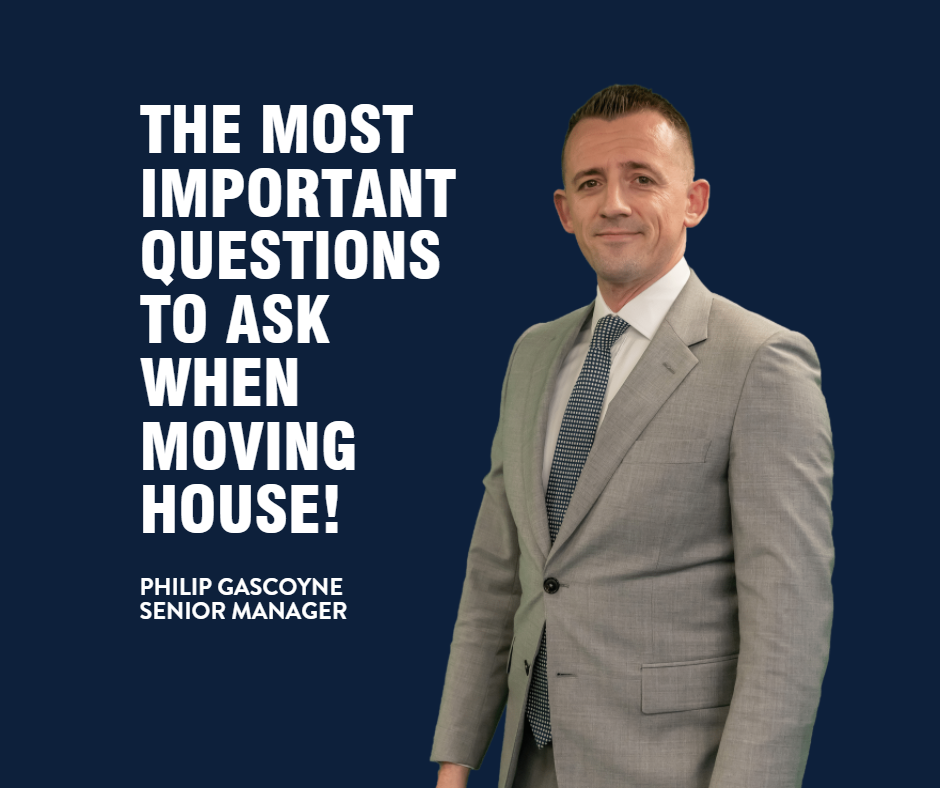 Advice
The most important questions to ask when moving house!
Moving home can be a confusing experience at the best of times so if you are thinking of moving and are wondering what questions you should be asking then our senior manager Philip gascoyne is here to help!
As an experienced local estate agent working in the local property market for many years I have put together some useful tips that buyers and sellers should be asking of estate agents that they are either looking to engage with or are in the process of buying through.
Seller's Questions for Estate Agents:
Other than Rightmove or Zoopla, how else do you generate sales? We constantly sell property before they hit the portals and if an agent knows their database, a better sale price will often be achieved from the keenest buyers early on.
Ask to see plenty of comparable evidence when you are given a price on your market appraisal. Unfortunately, we still live in an age where some agents will give a price with nothing to substantiate it and it is critical that you come to the market at the right price instead of having to reduce a few weeks later.
Ask the agent what their review presence is like on Google. Many services are judged by the reviews of their clients and when engaging a company to sell your biggest asset, it pays to do your research first, especially on individuals you may be dealing with directly.
Not a question as such but it is worth trying to visit estate agent's offices before inviting them to your property, it will give you a good feel for the type/size of team that may be selling your property.
Opening hours are always worth checking as many agents do not work to the same work schedules – it goes without saying that an agent with longer opening hours will benefit you in numerous different ways throughout the move.
One of the most critical questions to ask should refer to the after sales process. This is often the most difficult part of the moving process and it is important that you understand who will be looking after your sale before engaging an agent, i.e., will it be the office manager or the office trainee – after all, who would you want dealing with this for you?
Ask to see recent evidence of your chosen agent's performance in the area in which you reside. Success breeds success and if your chosen agents are performing strongly in your area, it not only should give you confidence in their ability but if their name keeps cropping up your potential buyers will notice this and be likely to register their details with them before their competitors.
Buyer's Questions for Estate Agents:
Can the agent recommend a competent solicitor? The after sales process can be laborious and nearly all buyers do not have the time, knowledge, or inclination to give their purchase the almost constant attention it will require. If the agent has a solicitor with which they have a good relationship, this will save you more time and hassle than you could imagine down the line.
What is the position of the sellers? If you are looking to purchase quickly, it will save your time viewing properties that do not adhere to this criteria by checking beforehand.
When buying a leasehold, ask the agent if the seller has already purchased the management pack. If they have, this will save 2 – 4 weeks during the sales process because enquiries will be answered much more quickly.
Ask to speak to the agent's mortgage broker when putting forward an offer. You may have your own broker/bank but if the agent can verify your offer after you've spoken to their broker, it will make the seller feel more comfortable that you are open to this conversation and may even save you some money as well!
Take the time to register your details with the market leading agents in the areas in which you are looking to buy, a simple Rightmove search of the last 14 days / for sale boards in the area will quickly tell you this. Statistically, the agent selling more property has a higher probability of finding you a suitable onward purchase in the future if there is nothing currently available that suits your criteria.
If you are thinking of buying or selling in Surrey or Hampshire contact our team of local experts today who will be happy to help with all your moving questions!
VALUE MY PROPERTY TODAY
Lets get started! Our valuations are based on our extensive knowledge of the whole of the market.
Get a valuation