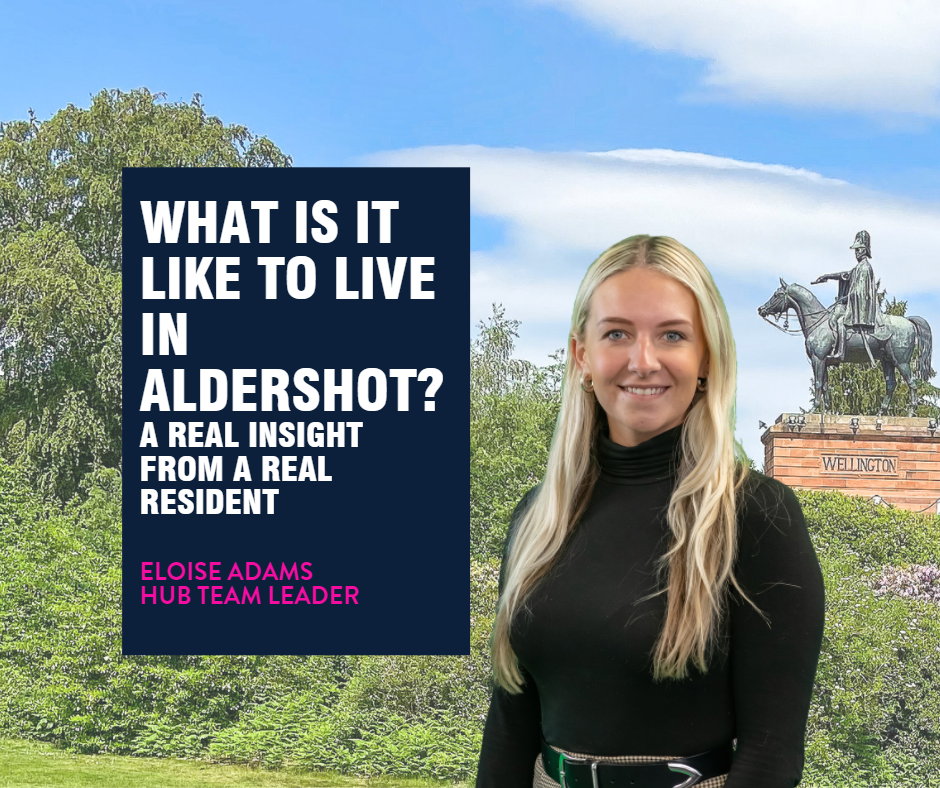 Advice Market Update
Is Aldershot a good place to live? A real insight from a real Aldershot resident.
Is Aldershot a good place to live? This is a question that we get asked a lot by people moving to the area. Having lived in Aldershot my whole life, I think I can answer this question with confidence.
Aldershot has a rich history, previously being home to the British army. It is a market town which dates back to 1607! This same town centre is currently undergoing a complete regeneration! They are developing throughout the town, completely refreshing the town centre with new homes, shops, retail space and cafes. The regeneration started in 2020 but the Council still plans preserve the beautiful Victorian buildings ensuring to maintain the towns heritage as this is where Aldershot's heart lies.
Aldershot is a great location for working professionals or anyone that is looking for excellent connections via both rail and road! You can get from Aldershot Railway Station directly into London Waterloo via the South West Train Network in under an hour. We are also closely located to the A3 and M3. If you are a seaside lover, we are also just an hour from The Witterings and Portsmouth!
Aldershot also has a fantastic theatre named The Princes Hall. Attracting performances and comedy acts from the likes of Jimmy Carr, The Russian State Ballet and Opera and the family favourite annual pantomime! They have a variety of different shows for all ages and is always a great night out for the family. Just next to this theatre is a large Cineworld Cinema that stands next to some great restaurants such as Nandos and Pizza Express! If you love football, Aldershot is also extremely proud of our football team Aldershot FC who call the EBB stadium home. Bridges Estate Agents actually sponsor Aldershot FC, so we are there number one supporters – during the season they have home games on Tuesdays and Saturdays where there is always a buzzing atmosphere (even when we may not have taken the win!)
Many people are surprised to hear that Aldershot is also home to some beautiful parks and nature spots.  Manor Park, where the annual fireworks display takes place, is a local favourite for children and adults alike. It has recently had an outdoor gym installed, alongside a children's play area and a skate park. There is also Municipal Gardens which dates from 1904, this is where the Aldershot Cenotaph is located to commemorate those fallen in both World Wars. This park also hosts an annual food festival, where local small businesses come together and put on an amazing spread of food and performances from around the world, displaying how diverse and multi-cultural Aldershot is! Aldershot town is also extremely close to the breath-taking Caesar's Camp. Caesar's Camp is a must visit for all residents of Aldershot – on a clear day you can see all the way past Farnborough airport from it's amazing viewpoint, or you can walk around one of the beautiful ponds or even say hello to the famous cows that graze the area. It is an ideal place for walkers, cyclists and runners alike!
If you are health and fitness obsessed, or just looking to get a little bit fitter, then look no further than Aldershot. There are several gyms to choose from as well as Aldershot Lido, which is also a great spot for a fun filled day during the Summer. If you are looking for more of a 'Health Club' to join, David Lloyd and Nuffield Health are also located extremely close by for you to kick back and relax at the spa.
In terms of buying in the area, Aldershot has a style of home for everyone. Whether you prefer a fresh new build or a character property there is something to suit everyone's tastes. Where Aldershot is a historic market town, we have thousands of period properties lining our streets as well as the brand-new Wellesley development which is still growing. We are currently seeing an influx of buyers relocating from London due to the town's amazing links to London as well as young families looking for their forever homes. We are also seeing a lot of investment buyers purchasing buy-to-let properties due to the strong local rental market. Our lettings team have had great success in securing tenants for these landlords with our local agents achieving 103% of rental prices in 2021.
So, going back to the question, is Aldershot a good place to live? Then the answer in my opinion would be a giant YES! Aldershot has a lot more to offer than people may think. We currently have some amazing properties on the market in the Aldershot area and our local experts are waiting to help you find the property that is perfect for you. Whether you are looking for an apartment, a retirement property, a two-bed terraced or a huge, detached forever home we will have something that fits what you are looking for in your next home!
We can't wait to hear from you. If you want to know some more about the Aldershot area and what it has to offer then please do not hesitate to give us a call!
VALUE MY PROPERTY TODAY
Lets get started! Our valuations are based on our extensive knowledge of the whole of the market.
Get a valuation