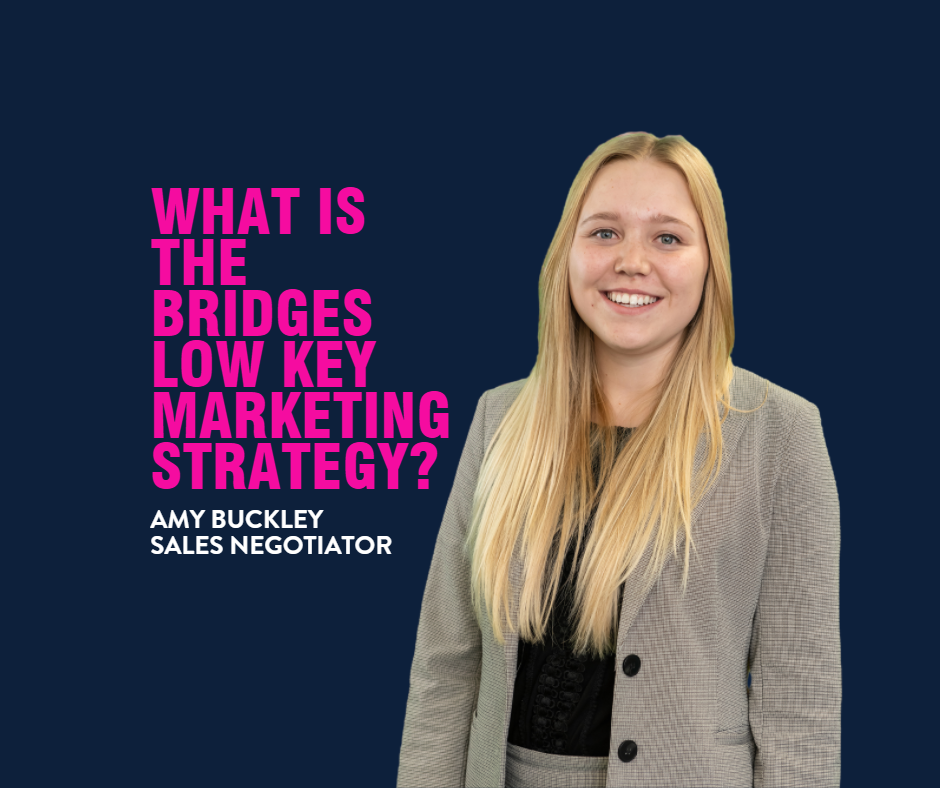 Advice Market Update
What is The Bridges Low Key Marketing Strategy?
Everyone has their own motivation for moving, and this motivation can influence the marketing strategy the Bridges agents recommend or that our vendors want.  This is why some of our agents use the Low Key Marketing Strategy for their vendors. Let us explain: Are you wanting to move but are not quite ready or comfortable with a FULL marketing strategy, not keen on the neighbours knowing you are moving, or is there another circumstance holding you back? At Bridges we understand that the "All In" marketing strategy isn't for everyone and this is why we offer an 'off-market/low key marketing' approach to some of our sellers.
Bridges Low Key Marketing is when our team markets a property without the usual exposure and only promote and discuss your property with a selection of buyers and local connections who we know will offer a genuine interest. Bridges have been successfully using this strategy for a number of years and with a network of 11 local offices and proactive estate agents we have a vast selection of serious buyers ready to learn more about your home – without having to go on portals!
Why is the Bridges Low Key Marketing attractive to some vendors?
Discreet – Haven't told friends and family you are moving yet?  Are you only considering selling if the right buyer comes along? You are not quite ready to be formally on the market? Renovating the house but not quite ready for photos?
Market your home to local families and buyers first!
Our team can speak to local clients who we know will be interested in your home – less viewings and a sale from someone who knows the area and really wants your home!
Concerned you will sell your property and not be able find another one to buy?
Some sellers searches can be really specific and they might be concerned that they will agree a sale and not be able to find their next home within the buyer's timescales. Bridges will target buyers that are genuine and who are in a position to wait for the right house, therefore giving you time to find a suitable property with the help of our agents.
With Bridges Low Key Marketing we will only contact a select handful of buyers with your permission, to let them know that we will soon be launching your property and to give them the opportunity to view the property.  We will only contact buyers we know are looking specifically for a property like yours.
To find out more about The Bridges Low Key Marketing Strategy and to book your free market appraisal please click here.
VALUE MY PROPERTY TODAY
Lets get started! Our valuations are based on our extensive knowledge of the whole of the market.
Get a valuation