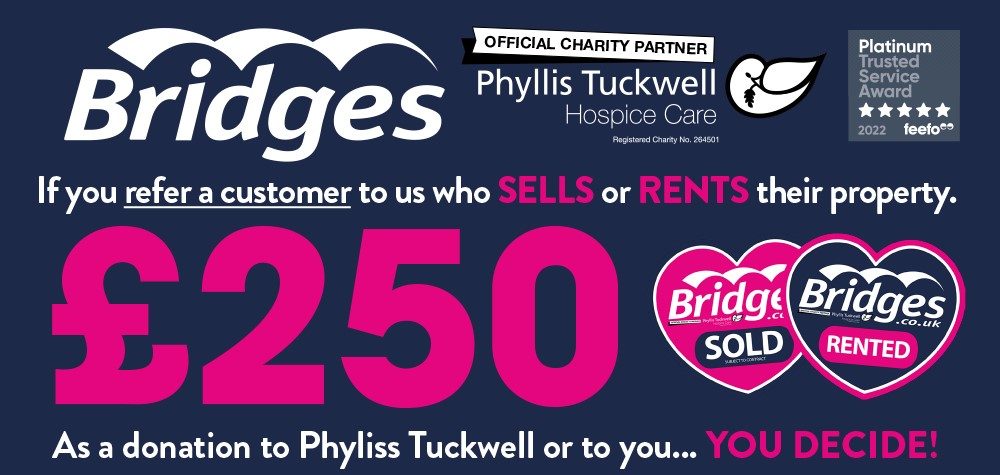 How does it work?
You can refer as many friends and family members as you like by following these steps:
Refer
Recommend your family, friend or acquaintance to Bridges Estate Agents or Orchard By Bridges before they start using our services via our refer a friend page. You don't need to have used our services before.
Friend, Family or Acquaintance instructs us
Your Friend, Family or Acquaintance instructs Bridges or Orchard as their agent of choice for their sale or let and signs terms of business with us.
You receive your referral fee
When your Friend, Family or Acquaintance property completes or checks in and we receive payment of our invoice in full, we will pay you or Phyllis Tuckwell Hospice £250 – its up to you if it goes to you, to the charity or a 50/50 split!
Phyllis Tuckwell Referral Scheme
Terms & Conditions
Available for new clients only – the definition of new is someone who has not used our services before or someone that we have not had contact with or conducted a valuation with over the previous 6 months. Sales referral payable upon completion and payment of fee. Lettings referral payable upon check in and payment of fee. Referral is per client introduced not per property. In the event of dispute Bridges Estate Agents decision is final.