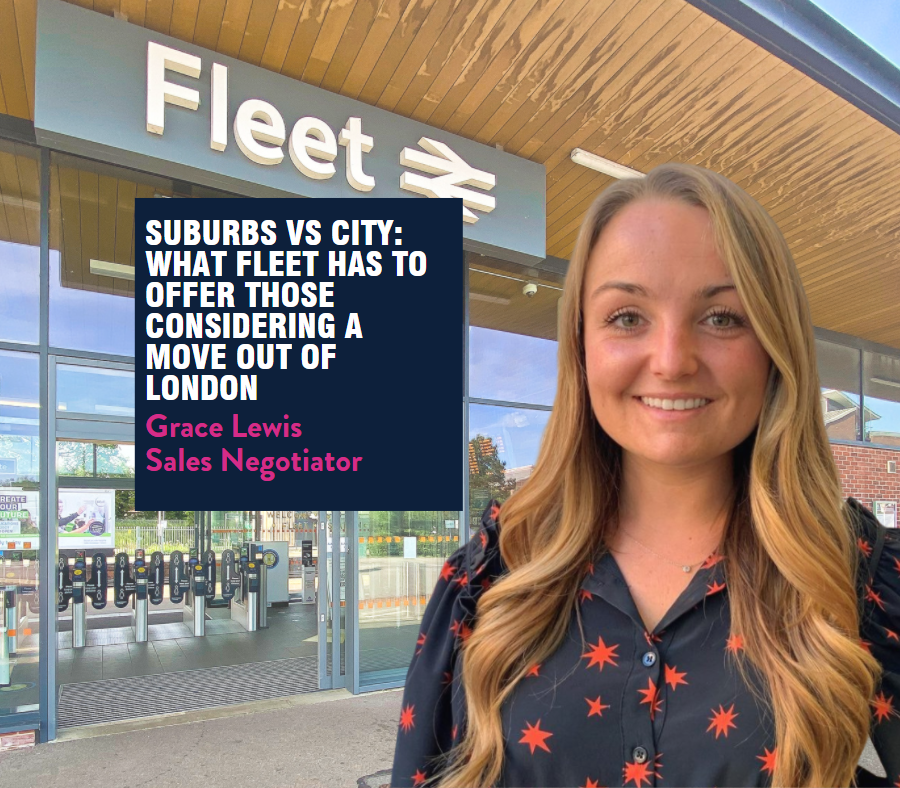 Advice
Suburbs VS City: What Fleet has to offer those considering a move out of London
If you love the hustle and bustle of London living but are finding yourself priced out of the housing market, Fleet could be a great option for you! I'm sure that it won't come as a surprise that moving further out of London will increase how far your investment will stretch, but will the commute be a pain, and would you enjoy the smaller city living? For me (a 30-year-old London expat), Fleet offers a quick commute into London in an affordable area to make it possible to get on the housing ladder for the first time. Once you get used to having everything on your doorstep it's hard to imagine life any other way, but Fleet still fulfils that need by having popular restaurants, bars, pubs, gyms, shops and other amenities on your doorstep, giving you the best of both worlds. So, let's look at the comparisons…
To start with, let's look at the price differences. What can £450,000 buy you in Fleet vs. London? The housing market is incredibly different all over London so let's take prime central, Earls Court, for example on this occasion… £450,000 would roughly buy you a sizeable one-bedroom, one bathroom apartment in the SW5 postcode. Here in Fleet, we are seeing many first-time buyers and existing homeowners snap up three-bedroom semi-detached houses with gardens and garages for the same exact price. The need for outside space has become particularly important following the Covid 19 pandemic and we are seeing many buyers trading flats for houses where they can. The need for a home office has also become very popular with new work from home practices and we are seeing many third bedrooms being utilised as studies as the kitchen table is no space to work from home in the long term if you can avoid it.
Whether or not you are commuting to London for work or leisure purposes, it's important that there are ample trains available daily. There's nothing worse than one train to rely on per hour! The stress of that would probably throw anyone off the idea of commuting into London from a town like Fleet and I completely understand why! However, there are usually four trains that depart from Fleet mainline station into London Waterloo per hour in the week and one to two trains every hour on the weekend. The trains run early and late so you can make the most out of your day in London and with it only taking around an hour each way, you're home/to work before you know it.
Fleet is also located just off junction 4a on the M3 which makes driving into London very accessible. It's around a 25-minute drive to the M4 going towards Reading and the M25 is only a few junctions up the M3 as well. If you do need to commute into London for work, Fleet really does have all angles covered making it a fantastic place to live if you work out of area.
As mentioned above, Fleet High Street has a selection of fantastic pubs and restaurants, including the ever-popular Oatsheaf and, my personal favourite, the new Kosu Mosu sushi restaurant. It also has a golf course, plenty of choices for grocery shopping and there is also a club for those late-night owls. Fleet also has Farnham a short distance away which has another great collection of lovely bars, pubs and restaurants and Guildford is close by as well.
Overall, for us Fleet locals, London feels like a stone's throw away should we need it, but it's also very easy to feel at home here with everything there is to offer.
Should you be looking for your first or next home in the GU51 or GU52 area, please give us a call on 01252 788 108 and we will help find you something suitable with the above in mind.
VALUE MY PROPERTY TODAY
Lets get started! Our valuations are based on our extensive knowledge of the whole of the market.
Get a valuation