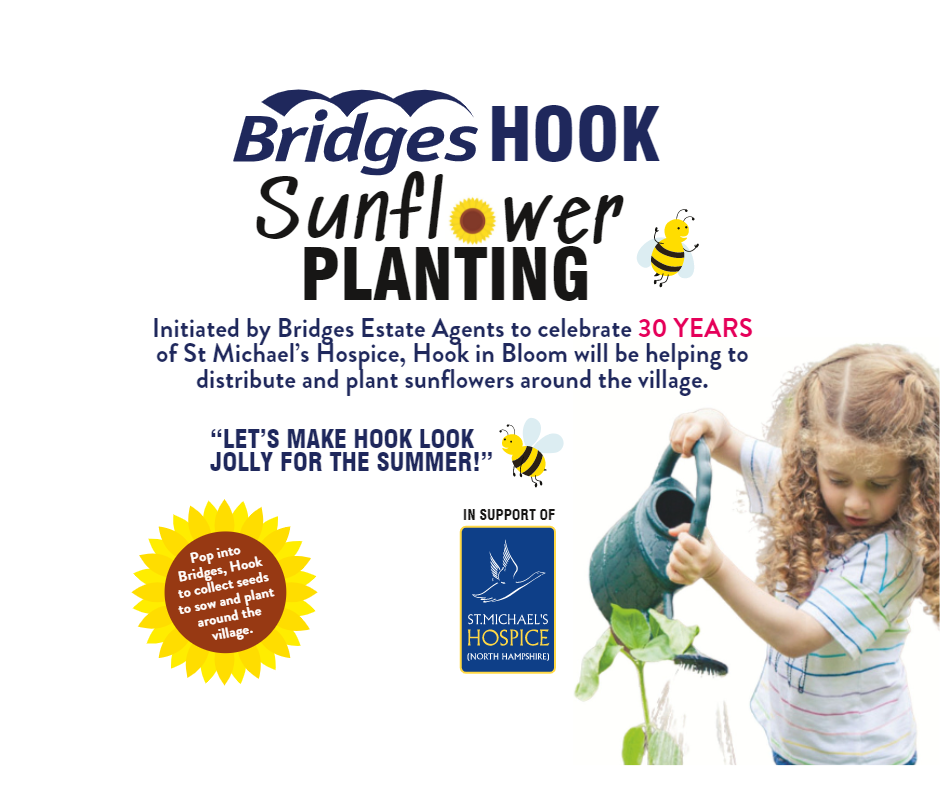 Community
SUNFLOWERS TO MARK 30 YEARS OF HOSPICE CARE BY ST MICHAELS HOSPICE FOR BASINGSTOKE AND SURROUNDING VILLAGES
We are delighted to see the arrival of bright yellow daffodils and some sunshine signifying the arrival of spring. As summer takes over it is hoped that another brilliant yellow flower will enjoy prominent plantings in Hook and surrounding villages, the majestic Sunflower. The planting project, initiated by Kevin, Lewis and Bridges Hook and The Surrounding Villages Team and supported by Hook In Bloom volunteers, is to celebrate 30 years of hospice care in the area which has been expertly provided for many of our villagers by our official charity partners St. Michael's Hospice in Basingstoke.
The aim of the great sunflower planting is to raise awareness for the Hospice which in turn encourages fundraising for their invaluable work.  As charity partners our Bridges teams help the Hospice with fundraising and last week provided St Michael's Hospice with a new electric car which will be used by the Hospice at Home team and allow them to offer in home care for those in need in the community.
Jaga Cowley, who lives in the village and who has first-hand experience of St Michael's, was so taken with the idea of hundreds of sunflowers, let's make it thousands as the village did with the poppies, that she wanted to sponsor the seeds and play an active part in the project.
Already many villagers and Hook In Bloom volunteers have pledged their support by collecting sunflower seeds from Bridges Hook and bringing them on to seedlings and planting them in strategic places around the village, in private gardens, and around perimeters of playgrounds. It is hoped that the village will be a riot of colour with the normal plantings, which will be red, white and blue this year, together the bright yellow sunflowers. Two varieties of sunflowers are available, tall and dwarf varieties, to suit different locations
The sunflower was adopted as the emblem of St. Michael's Hospice and for their 30th Anniversary this year they are launching a special sunflower fundraising themed event and display in Festival Place, Basingstoke later in the Spring – watch out for more details.
Says Jaga, "When my husband, Keith, was diagnosed with progressive supernuclear palsy (PSP) we were referred to the hospice. Their help in managing the disease was invaluable. There was always someone available to give advice and help especially when things got really tough. They were able to offer classes to help cope with the illness. They were able to advise and source equipment that was needed to make his life easier and more comfortable. They supported him and me too.
"Keith was able, when the time came, to die as he wished at home, pain free and with dignity."
Says Kevin Winchester, the manager of Bridges in Hook, "The Bridges Hook team are already involved in, supports and sponsors Hook In Bloom and its work in the village, fundraisers for St. Michael's Hospice, and has a children's sunflower competition, so it made sense to get involved with this wonderful project too. It's now time to plant the seeds, so we look forward to seeing lots of people coming into our offices to collect sunflower seeds in the near future."
HOW CAN YOU HELP?
By popping into Bridge's in Hook to collect seeds to plant in seed trays, bring them on and then help In Bloom by planting in your garden and around the village. It is hoped that various organisations, including children's organisations, will be involved plus Bridges will be sponsoring a Sunflower Competition for children.
Bridges Hook and The Surrounding Villages – 3 Fairholme Parade, Station Road, Hook, Hampshire RG27 9HE
01256 769999 (Sales), 01276 769998 (Lettings)
hook@bridges.co.uk, lettings@bridges.co.uk
BACKGRO0UND
St. Michael's Hospice serves the community of Basingstoke and surrounding villages. It costs £5.5 million a year to run the hospice. St Michael's provides all its care free of charge to patients, their families and carers. This care is made possible by supporters taking part in fundraising events, playing the Hospice's lottery, shopping at the Hospice's retail outlets, making charitable donations and leaving gifts in their wills.
VALUE MY PROPERTY TODAY
Lets get started! Our valuations are based on our extensive knowledge of the whole of the market.
Get a valuation