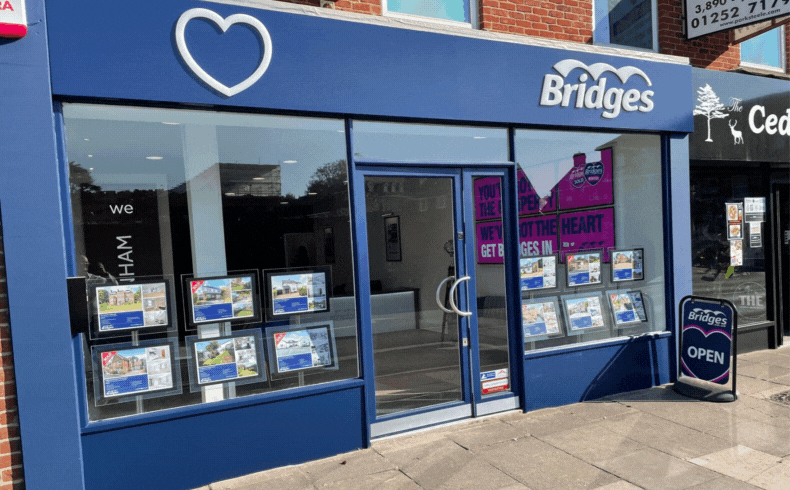 Company Update
The doors are now officially open!
As Farnham's number 1 selling agent the team deserved the office space to match their status as market leaders and the move to their bigger, better High Street office reinforces Bridges' strong local, high street presence, long term growth plans and our success over the last 8 years in and around Farnham, Surrey.
James Baldry MNAEA, Managing Director of Sales, who first opened our Farnham office in 2014, says of the new office and the team's determination and journey to becoming Farnham's number 1 agent "It was evident that as our business grew in Farnham, the expansion of the team to service the number of clients wishing to use Bridges was necessary, we needed bigger premises. With a 4.9 Google rating for customer service, it was important that our clients had a comfortable and confidential space to discuss their moving plans and when the unit next door to our existing office came available, it was an easy decision to relocate the team."
The new office gives us a fantastic, prominent, High Street space to showcase our clients' properties, with bigger window displays and a dedicated client area for buyers and sellers to pop in for a catch up with Aaron, Alfie and the team and learn about the Bridges' experience.
The new office offers the team lots more space to allow us to integrate our mortgage partner Easy Street as well as both our sales and lettings teams. The prominence of the location alongside the town's redevelopment means that we anticipate much higher levels of footfall and we are fairly sure our new displays will provide a constant supply of 'window shoppers'!
Bridges first opened its first office in 1991 in Ash Vale and has 10 offices in the surrounding Surrey and Hampshire towns and villages which means we are able to support your move, wherever and whenever you need it. Whether looking to buy, sell, or rent, the Farnham team promise you honest and up to the second advice and genuine 5-star customer service.
Last year we celebrated our 30th Birthday and the opening of a new larger Farnham office demonstrates the continued demand for proactive, personal estate agent services, 5-star customer service combined with strong online marketing and the latest tools and products available to the industry.
Aaron Milligan, Manager of the Farnham office says "The move to our new office is an extremely proud moment for me both personally and professionally. Having joined the Bridges' family in our newly formed Farnham office over 8 years ago, it's surreal to look back at our early time working in the town and somewhat of an unknown quantity to the people of Farnham. To now be selling houses for clients for the second and third time – and even more in some instances – is exactly what I had envisioned when walking through the door for the first time. To have achieved what we have achieved in this period of time, to go from an out-of-town agent to being the agent who sells the most houses across the Farnham postcodes is truly a testament to the hard work and consistency of both my wonderful front of house team, and our ever supportive team of directors whose ambition and foresight has allowed this to become reality. Now with more space to grow our staff levels and maintain our high levels of customer service on a larger scale, I cannot express my excitement for what lies ahead in the next 8 years."
Bridges Farnham's new office is located next door to their original office at 6 East Street, GU9 7RX and will provide a full sales, lettings, land and new homes service to residents in the town and the surrounding villages.
For more information and to arrange a free market valuation, please email amilligan@bridges.co.uk or call Tel:01252 723723
VALUE MY PROPERTY TODAY
Lets get started! Our valuations are based on our extensive knowledge of the whole of the market.
Get a valuation