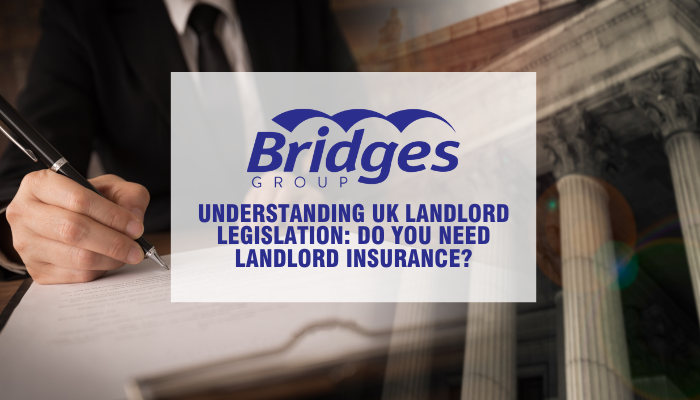 Lettings
Understanding UK Landlord Legislation: Do You Need Landlord Insurance?
As a landlord in the UK, it's essential to be well-informed about the legal requirements and responsibilities that come with letting a property. One crucial consideration for landlords is landlord insurance. Let's explore the topic and shed light on the importance of landlord insurance and how Bridges Lettings can assist you with all your landlord questions.
The Importance of Landlord Insurance
Landlord insurance is specifically designed to protect landlords from potential risks and financial losses associated with renting out a property. While it is not a legal requirement in the UK, having landlord insurance is highly recommended, as it provides valuable coverage that standard home insurance policies may not offer.
What Does Landlord Insurance Cover?
Landlord insurance typically includes three main types of coverage:
Buildings Insurance
This covers the cost of repairing or rebuilding the property in the event of damage caused by incidents like fire, flooding, or vandalism.
Contents Insurance
This covers the landlord's belongings within the property, such as furnishings, appliances, and other contents that belong to the landlord.
Liability Insurance
This provides protection against legal claims made by tenants or visitors who suffer injury or damage while on the property.
Bridges Protect
Bridges Lettings offers Bridges Protect, a powerful product powered by Rightmove, designed to provide peace of mind to landlords. Unexpected situations can arise, and as a landlord, ensuring a consistent rental income is crucial. With Rent Guarantee, you won't have to worry about missing out on rent if your tenant is unable or unwilling to pay. Bridges Protect offers a safety net, safeguarding your investment and offering financial security during challenging times. Protect your rental income with Rent Guarantee from Bridges Lettings and enjoy a worry-free landlord experience.
Why You Should Consider Landlord Insurance
While landlord insurance is not legally mandated, it offers valuable protection and peace of mind for landlords. Renting out a property comes with inherent risks, and having the right insurance can safeguard your investment and finances in case of unexpected events. Without adequate insurance, landlords could face significant financial losses and legal liabilities.
Navigating the world of landlord insurance and understanding UK landlord legislation can be complex. That's where Bridges Lettings comes in. Our team of experienced letting agents is well-versed in UK landlord regulations and can provide expert guidance on all aspects of being a landlord, including insurance requirements.
At Bridges Lettings, we believe in providing comprehensive support to our landlords. That's why we have a network of recommended insurance providers who specialize in landlord insurance. These providers understand the unique needs of landlords and can offer tailored insurance solutions to protect your investment property effectively.
Whether you're a seasoned landlord or a first-time investor, Bridges Lettings is here to assist you with all your landlord questions and needs. Our team can guide you through the process of obtaining landlord insurance, ensuring that you have the right coverage to safeguard your property and rental income.
Secure Your Investment with Bridges Lettings
Don't take chances with your investment property. Contact Bridges Lettings today and let us provide you with expert advice and assistance on landlord insurance and all aspects of being a successful landlord. With our wealth of knowledge and dedication to exceptional customer service, you can trust us to be your reliable partner in managing your rental property. Protect your investment and ensure a hassle-free landlord experience with Bridges Lettings.
Please note: This content is valid at the time of writing July 2023.
VALUE MY PROPERTY TODAY
Lets get started! Our valuations are based on our extensive knowledge of the whole of the market.
Get a valuation