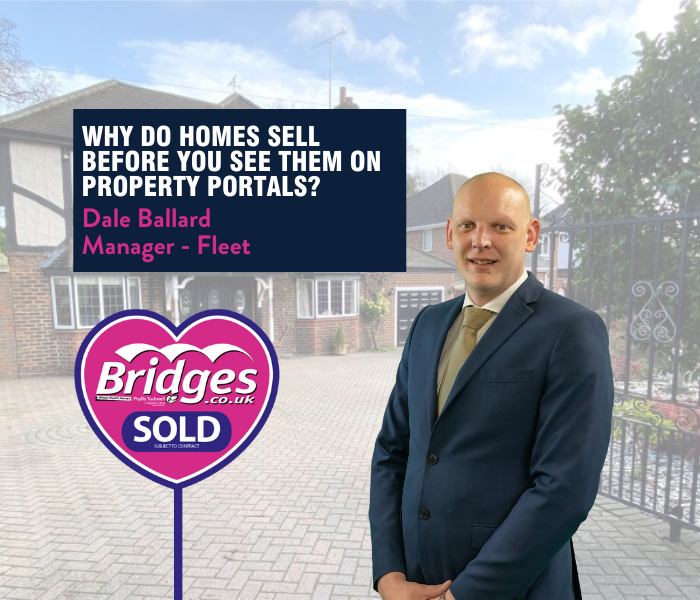 Advice
Why do homes sell before you see them on property portals?
After seeing a thread on a local social media page recently, I thought I should address this topic. It was first stated in the Sunday Times back in January that 1 in 5 houses across the UK are selling in "Off Market deals". I would suggest this could be closer to 2 in 5 locally.
So, what is the reason behind this? Well, there are a few different ones:
Firstly let me dispel the myth that all properties are marketed on the internet, in any market, even those away from the fast paced one we are experiencing currently, there are sellers that instruct us as agents to find buyers away from the prying eyes of friends, family and neighbours. 'Low Key' marketing has been a term for a number of years and allows sellers to move without 'all the questions' and for those who are tentatively dipping their toe into the property market waters this is often found as an ideal marketing strategy.
Secondly, and in my opinion the most likely reason, is due to the current high levels of demand in the surrounding area.  Freehold properties are generating hundreds if not thousands of initial enquires, "sounds great!" I hear you say, and yes it is to a certain extent.  However, many vendors share the opinion that their property doesn't need to be seen by hoards of buyers, just simply the ones that would show extreme interest, be in a position to proceed and make an offer that would be acceptable and in line with the current market.  With so much demand at present, a good local estate agent will not only qualify all new buyers to a high degree as to their suitability but will hold a database of pre-registered and pre-qualified potential purchasers that are in a strong position to proceed without the need to advertise your home online.
Finally, another popular reason with vendors especially if they have had conflicting valuations from several Estate Agents, is to take the discreet or "Low Key" marketing option for a short period of time before launching their home to Rightmove, Zoopla and other portals. This allows the agent to test the market with their database of pre-register buyers and gain valuable feedback, which will either lead to an "Off Market" sale being agreed or, at least the property being launched to their website and property portals at the correct price point.
So, my best advice to any potential home mover in the current climate is to make yourself known to a local estate agent who will discuss the steps to get you into a proceedable position, once you've got a sale agreed then start looking for and viewing other properties.
Considering moving?  Now is time to register with local Estate Agents in the area that you are looking to buy, this will ensure you get the call when the next "Low Key" property comes to market.
Don't worry if you haven't found your next home before marketing, as an experienced, good estate agent will ensure your buyer understands your position and help you find the perfect property!  Therefore, a no sale – no fee agent should always be your preferred choice of agent, as finding your next home is just as important to them as selling your current one!
At Bridges we pride ourselves in our ability to get our vendors moved, our network of 11 local offices makes sure that we are speaking to new local clients every day, your perfect next home might be our next valuation.  So, register today with Bridges and we will work with you to find you your next home, within a timescale that suits you!
Register today and jump the queue! Property & Houses for Sale Surrey & Hampshire | Bridges
VALUE MY PROPERTY TODAY
Lets get started! Our valuations are based on our extensive knowledge of the whole of the market.
Get a valuation