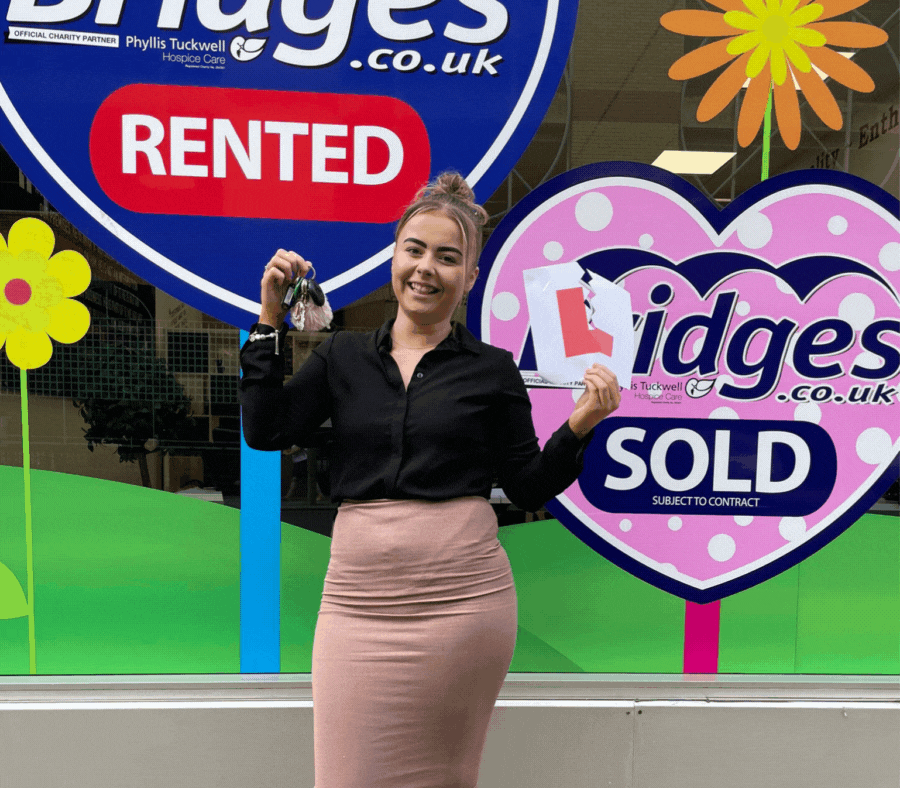 Company Update
Jade is BUZZING!!! It's not just a driving license… it's the next step in her career.
Earlier this year while out in a local pub, 2 of our team started talking to a hardworking, confident, friendly young member of the bar team. Within minutes of talking to her it was obvious this lady had big ambitions, was driven and had her head set on achieving her goals of becoming an estate agent… her only concern – she hadn't yet passed her driving test… any other estate agent would probably have told her to get in contact when she passed her test… but not us! Our ethos and recruitment policy is "a great attitude and passion essential, we can teach the rest" and it was clear to us Jade was the perfect fit for our team.
A few weeks later Jade joined the Bridges team and started learning the ropes in our "Hub" the heart of our business and the perfect training environment for budding estate agents, no car required, just the willingness to learn and offer our clients 5-star customer service. Jade jumped in with both feet and hit the ground running! Impressing Ellie (Hub Manager) and the rest of her team with her passion, ability to soak up the information and training provided like a sponge and winning over our clients with her bubbly, friendly nature and customer service skills. Alongside her training in the office Jade also focussed on her driving and achieving her goal of getting on the road and being able to get out and about with our clients and conducting viewings. After a few setbacks like her test being cancelled 24 hours before by the testing centre! And the demand for tests meaning she had to wait a lot longer than planned – yesterday Jade passed her driving test! This achievement means not only that Jade has achieved her goal, but also that she can push onto the next step in her career with Bridges and is one step closer to her dream of being a fully-fledged estate agent… and today is her first day in one of our sales offices!
Next step MNAEA qualifications!
Well done Jade we are really proud of you! We can't wait to support you on your career path with Bridges and help you grow into a Bridges Superstar!
If you are looking for a career with a company that believes in you and wants to help you achieve your goals, speak to our team today www.bridges.co.uk/careers.
VALUE MY PROPERTY TODAY
Lets get started! Our valuations are based on our extensive knowledge of the whole of the market.
Get a valuation