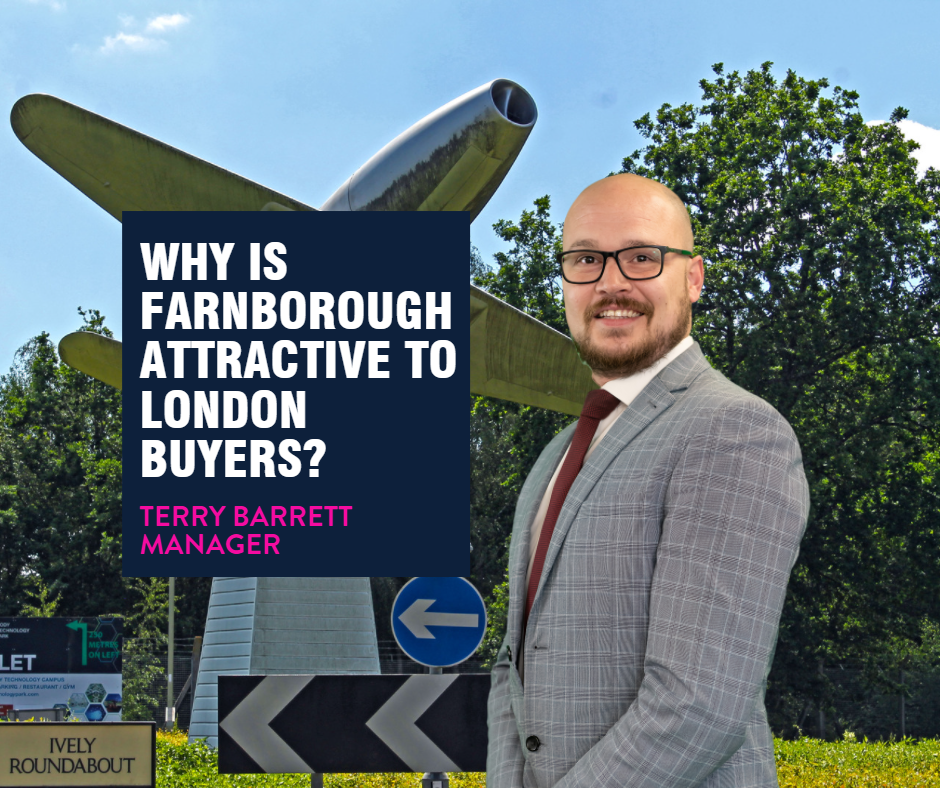 Company Update
Moving from London? What does Farnborough have to offer?
Being an experienced local estate agent based in Farnborough, I know that Farnborough has a lot to offer those that are looking to move away from the big smoke, offering great commuter links, outside space, family life, a wealth of hospitality, outstanding schools and more price for the pound outside of the Capital.
Farnborough is the most northern town situated in Hampshire making it an ideal location for London commuters who still need to stay relatively close to work in London.  From Farnborough's main line train station London Waterloo is reachable in under 50 minutes and with trains approximately every 14 minutes, Farnborough is an ideal location for those looking to commute to and from work.
Escaping the hustle and bustle of the Capital also means that home buying can be more accessible, especially for first time buyers and families looking for a bit more space both externally and internally.  In 2021 on average in Farnborough three-bedroom semi-detached homes were being sold for £374,557 whereas in London on average three-bedroom semi-detached properties were being sold for £1,082,091.
With the move out of London comes a lot more benefits than the price alone.  Outside green spaces are in abundance throughout Farnborough with not only more properties offering gardens but many beautiful walks and parks such as Southwood Woodlands, Queen Elizabeth Park and King George Playing Fields.  These local walking routes are great for both families and dog walkers allowing them to explore their beautiful local scenery.  Alternatively, Farnborough also offers excellent hospitality and shopping facilities such as Blackwater Retail Park and The Meads shopping centre which boasts many high street name brands and restaurants as well as a multi-screen VUE cinema.  In Farnborough you are never far from a country pub or local shop.
Farnborough is also the host of the internationally recognised biennial event that is Farnborough Airshow.  Farnborough Airshow attracts exhibitors and visitors from around the world gathering the entire aviation and aerospace industry to learn and network business, whilst also allowing everyone to enjoy the spectacular show.
With a growing family another reason why London residents would look to make the move from London to Farnborough is the wealth of primary schools, secondary schools and further education facilities such as Farnborough Sixth Form College and Farnborough College of Technology which have outstanding Ofsted reports.  This makes Farnborough the ideal area to raise a family.
Now more than ever we have a seen an increase of buyers relocating from London to Farnborough allowing them to make the most of the wide range of amenities and the lifestyle Farnborough has to offer them. If you are thinking of making the move from London to Farnborough contact our team of local experts today who will be happy to help with all your moving questions!
VALUE MY PROPERTY TODAY
Lets get started! Our valuations are based on our extensive knowledge of the whole of the market.
Get a valuation