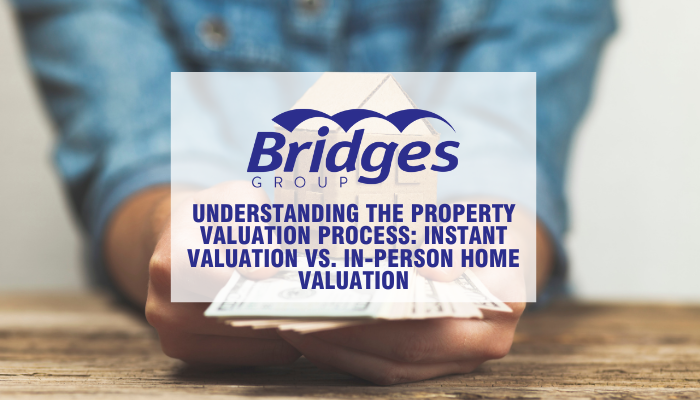 Advice Market Update
Understanding the Property Valuation Process: Instant Valuation vs. In-Person Home Valuation
If you're planning to sell your property, one of the critical first steps is to understand its market value. Accurate property valuation ensures that you set the right price and attract potential buyers. At Bridges Estate Agents, we offer two valuation options: instant valuation and in-person home valuation. Let's delve into the benefits of both approaches to help you make an informed decision.
Instant Valuation: A Quick Overview
An instant valuation is a convenient online tool that provides an estimated value of your property based on available data and market trends. It's a quick way to get a general idea of your property's worth without the need for a physical visit. Simply enter your property details into our system, and within seconds, you'll receive an automated valuation.
Benefits of Instant Valuation
Speed and Convenience: Instant valuations provide a rapid assessment, making them an excellent option if you're curious about your property's value and don't want to wait.
Initial Market Insights: An instant valuation offers an initial glimpse into your property's potential worth, allowing you to begin planning your selling strategy.
Free and Easily Accessible: Instant valuations are typically free and readily available on our website, allowing you to obtain an estimate at any time.
In-Person Home Valuation:
While instant valuations offer a quick snapshot, they are limited by the data available at the time. For a more accurate and comprehensive assessment, we strongly recommend an in-person home valuation with one of our Bridges experts.
Benefits of In-Person Home Valuation
Accuracy and Precision: Our team of experienced valuers conducts thorough inspections to assess every aspect of your property accurately. They consider factors such as condition, layout, unique features, and local market conditions that may not be accounted for in an automated system.
Personalised Assessment: An in-person valuation allows our experts to tailor their assessment specifically to your property's individual characteristics, providing a more personalized and precise valuation.
Real-Time Market Insights: The property market can fluctuate, and an in-person valuation ensures you receive the most up-to-date information on current market trends and demands.
Clarifying Your Selling Strategy: An in-person valuation provides an opportunity to discuss your selling goals and preferences, helping us devise a customized strategy that aligns with your needs.
Expert Guidance: Our valuers are well-versed in the local property market. They can offer valuable advice on pricing, marketing, and timing your sale for optimal results.
Both instant valuations and in-person home valuations have their merits, but an in-person assessment by a Bridges expert is the recommended option for obtaining the most accurate and comprehensive valuation. While instant valuations provide a quick initial insight, they lack the human touch and real-time market expertise that our experienced valuers bring to the table.
At Bridges Estate Agents, we value the importance of understanding the true worth of your property. Our team is dedicated to delivering accurate and personalized valuations, ensuring that you have the knowledge and confidence to make informed decisions throughout the selling journey. When it comes to property valuation, trust our experts to provide the insights you need for a successful sale. Contact us today to schedule your in-person home valuation and take the first step towards achieving your property selling goals.
VALUE MY PROPERTY TODAY
Lets get started! Our valuations are based on our extensive knowledge of the whole of the market.
Get a valuation