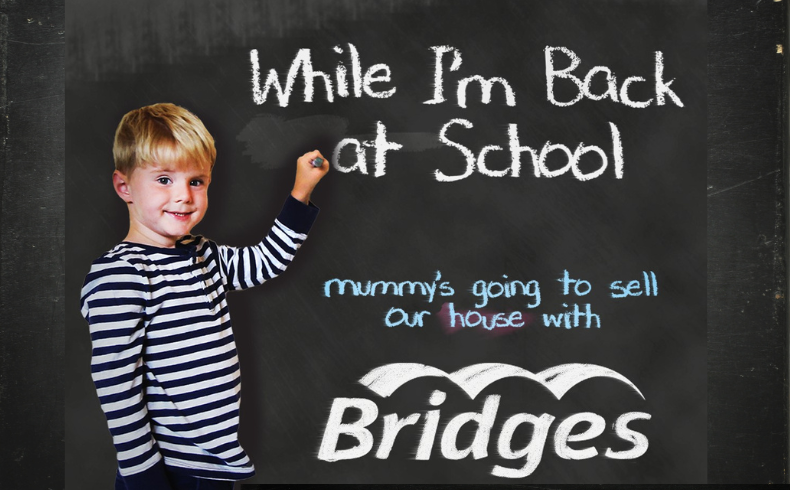 Advice Company Update Market Update
Back to school: now is the BEST time to market your home.
Moving as a family can be daunting and one big thing you may be thinking about if you have children under 5 is securing the perfect home in the perfect location, giving your child the advantage to secure a place at the perfect school.
You may be considering the type of school that you want your child to attend, and this might steer your decision for your next move.
There are so many options when putting forward your 1st, 2nd and 3rd choice such as:
Community school
Foundation and voluntary schools
Academies
Grammar schools
Special schools
Faith Schools
Independent schools
Luckily, in Surrey and Hampshire where Bridges operate, we have a range of fantastic schools catering for primary and secondary age children. One of the most popular demands from young families when registering with Bridges to start looking for a new home is the local school catchment area and, if your home is within a catchment area of popular schools, you can achieve a premium by marketing your home at the right time.
For many families, their children's future is more than likely their motivation for moving. Our teams are speaking to local clients daily who are waiting for the right home in the perfect location and although the home style might be negotiable the location is not, and some parents are likely to do whatever it takes to secure a home that is close to their preferred school.
My children are under 5, why would I consider moving now?
If your child/children haven't yet started school, now would be the perfect time to move, as choosing a school usually takes place in the Autumn/Winter.
Another benefit of marketing your home now/ securing your home now is the opportunity for your children to feel settled and meet other local children before they start school next September.
As the weather is turning and we approach the autumn months the volume of activity in our offices and on the phones makes it apparent that the season is upon us that is traditionally known to be a busy time for selling property as the children return to school and holidays are over, buyers are using their free time to continue their property search. If you have made the decision to move over the summer and are now ready to start your journey, you should pounce on this opportunity to ensure with our help and expertise you secure the best price for your home.
If you are considering a move this year and want to understand what is currently happening in the local market and how much your home is worth, we recommend you speak to our team today.
If you're thinking of putting your property on the market, contact us today on 01252 361550.
You can check out local schools and their Ofsted ratings by clicking here
VALUE MY PROPERTY TODAY
Lets get started! Our valuations are based on our extensive knowledge of the whole of the market.
Get a valuation