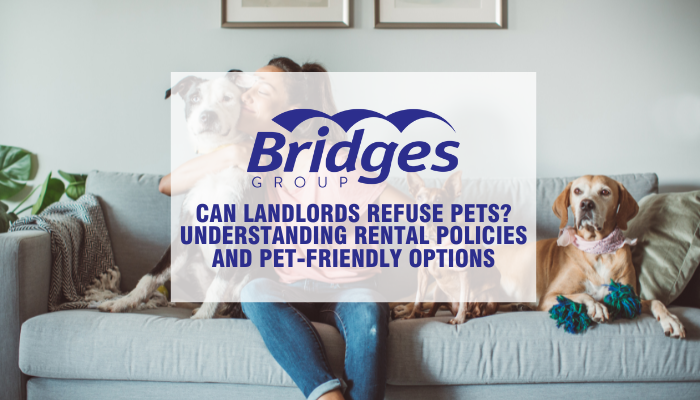 Lettings
Can Landlords Refuse Pets? Understanding Rental Policies and Pet-Friendly Options
As a tenant in the UK, finding the perfect rental property that accommodates your furry friend can sometimes be a challenge. Many renters wonder if landlords have the right to refuse pets in their properties. Let's delve into the topic and shed light on the rules and options for pet-friendly rentals in the UK.
Understanding Landlord's Rights
In the UK, landlords do have the right to set their own rules and policies regarding pets in their rental properties. Some landlords may choose to accept pets, while others might opt for a no-pets policy due to various reasons such as potential property damage or concerns about allergies. It's essential for tenants to respect the landlord's preferences and abide by their rules when considering renting a property.
Pet-Friendly Rental Options
While some landlords have a strict no-pets policy, there are still pet-friendly rental options available. Many landlords understand the importance of pets to their tenants and are open to allowing well-behaved and responsible pet owners to rent their properties. Additionally, some properties managed by reputable letting agencies, like Bridges Lettings, may have more lenient pet policies, offering a wider range of pet-friendly options.
Discussing Pet Policies with Landlords
If you're a pet owner searching for a rental property, it's crucial to be upfront about having a pet during the initial discussions with landlords or letting agents. Being honest about having a pet can help you find landlords who are open to considering pets on a case-by-case basis. Additionally, offering references from previous landlords, pet training certificates, or a pet resume showcasing your pet's good behaviour can improve your chances of being considered for a pet-friendly property.
The Renters Reform Bill is currently a hot topic in the rental sector, one significant aspect of the bill is that it will allow tenants to request a pet, which landlords must consider and not unreasonably refuse. However, it's important to note that the bill is still under consideration in the House of Commons for a second reading. While it demonstrates progress and understanding towards addressing tenants' rights, it may take some time before it is fully implemented in the rental market.
At Bridges Lettings, we understand the significance of finding a home that accommodates all members of your family, including your beloved pets. Our team of experienced letting agents can assist you in navigating the rental market, discussing pet-friendly options with landlords, and helping you find the perfect pet-friendly property that suits your needs and preferences.
Why Choose Bridges Lettings
As experts in issues that concern landlords and tenants, Bridges Lettings offers a comprehensive range of services for both renters and landlords. Our dedicated team can guide you through the rental process, answer all your questions, and provide professional advice to ensure a smooth and hassle-free tenancy.
Contact Bridges Lettings today.
Please note: This content is valid at the time of writing July 2023.
VALUE MY PROPERTY TODAY
Lets get started! Our valuations are based on our extensive knowledge of the whole of the market.
Get a valuation