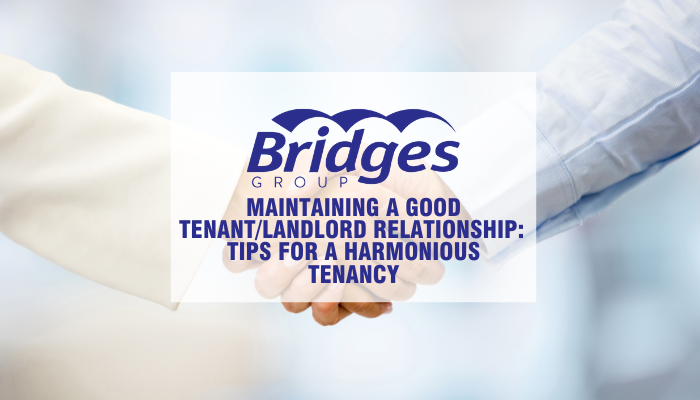 Lettings
Maintaining a Good Tenant/Landlord Relationship: Tips for a Harmonious Tenancy
At Bridges Lettings, we understand that as a landlord, maintaining a positive relationship with your tenants is paramount to the success of your tenancy. Our mission is to help you achieve a stress-free and thriving rental experience. We take pride in fostering better communication, ensuring timely rent payments, and ensuring that your property receives the care it deserves.
Here are some valuable tips, backed by our expertise in property management, to help you build and sustain a good rapport with your tenants.
Clear and Transparent Communication
Effective communication is the cornerstone of a healthy tenant/landlord relationship. Our team at Bridges Lettings emphasises transparency from the very beginning. From the initial property viewing to the signing of the tenancy agreement, we ensure that all terms and conditions are clear and well-communicated to both parties. Our approachable team encourages tenants to express any concerns or maintenance issues promptly. We value their feedback and address their queries in a timely manner, making them feel heard and respected.
Promptly Attend to Maintenance Issues
At Bridges Lettings, we recognise that a well-maintained property leads to satisfied tenants. Our dedicated property management team promptly responds to any maintenance requests or repair issues. Through regular property inspections, we identify potential problems early on and take care of repairs swiftly. By doing so, we demonstrate our commitment to providing a comfortable living space for your tenants, which encourages them to treat the property with care and respect.
Respect Tenant Privacy
We understand the importance of balancing property maintenance with respecting your tenant's privacy. Our professional property managers provide sufficient notice before any property inspections and avoid unnecessary visits. We prioritise our tenants' personal space, which helps foster a sense of trust and makes them feel at home in your property.
Address Deposit Concerns Amicably
Disputes over the deposit can sour relationships at the end of a tenancy. At Bridges Lettings, we believe in transparency and fairness. We are clear about the condition we expect the property to be in upon vacating, and we document this in the initial inventory report. During the checkout process, we assess the property's condition together with your tenants, discussing any deductions amicably. Our transparent approach helps avoid disputes and ensures a smooth deposit refund process.
Be Understanding and Flexible
Life is unpredictable, and tenants may face unexpected challenges. Our empathetic team at Bridges Lettings understands this and aims to find mutually beneficial solutions when your tenants encounter genuine difficulties. Our flexibility and understanding contribute to longer and more stable tenancies.
Regular Property Inspections
Through regular property inspections, we not only assess maintenance needs but also ensure that the property is well looked after. Our property management team uses these inspections as opportunities to provide feedback and positive reinforcement for any improvements made by the tenants. This positive approach motivates tenants to continue caring for the property.
Stay Informed About Regulations
As experts in property management, we stay up-to-date with landlord-tenant regulations. Our in-depth knowledge ensures that your tenancy is smooth, legally compliant, and that you meet all your responsibilities as a landlord while protecting your tenant's rights.
Seek Professional Assistance
Managing a tenancy can be overwhelming, especially if you have multiple properties or limited experience. By choosing Bridges Lettings as your property management partner, you gain access to our wealth of expertise. Our dedicated team handles day-to-day management tasks, provides expert advice, and skillfully mediates any tenant-related issues that may arise. With our support, you can focus on your investments while ensuring your tenants receive the best care and service.
With Bridges Lettings as your property management partner, maintaining a good tenant/landlord relationship becomes seamless. Our commitment to open communication, responsiveness, and providing a comfortable living environment ensures a harmonious tenancy. By following our expert tips, you can build a positive rapport with your tenants, leading to a mutually beneficial and successful rental experience. Should you need any guidance on managing your lettings or resolving tenant-related matters, don't hesitate to contact us. Bridges Lettings is here to support you every step of the way, ensuring that both you and your tenants enjoy a positive and rewarding rental journey.
VALUE MY PROPERTY TODAY
Lets get started! Our valuations are based on our extensive knowledge of the whole of the market.
Get a valuation