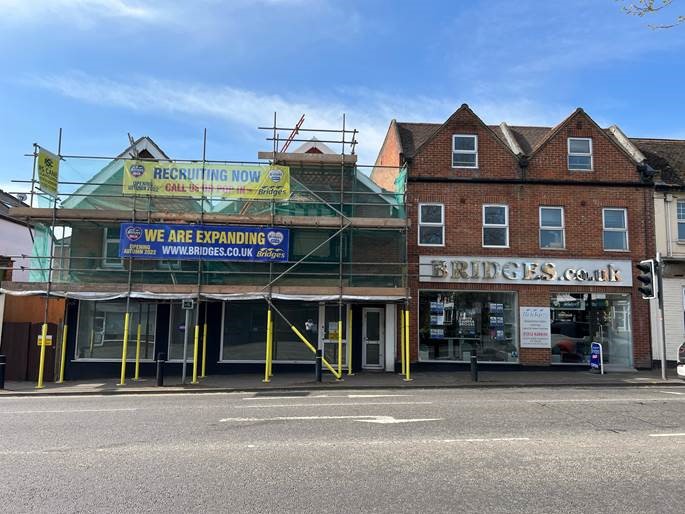 Company Update
We are expanding in Fleet!
If you have passed through Fleet Town Centre recently, then you may have seen our latest project… Bridges Fleet 2.0. This exciting project is part of our plans for continued growth for the Bridges group and is driven by our confidence in the local market and commitment to the Fleet and Church Crookham community.
Our new look, larger, modern, town centre office will offer an improved working environment for our fantastic, dedicated team members, a massive improvement to the street scene and investment in our hometown. The unit which had been left vacant and tired since the relocation of the previous tenant will be an excellent addition to our network of 10 offices locally and we can't wait to reveal the office later this year.
The larger, improved Bridges office, which is in a prime position in Fleet, offers expert advice for anyone looking to buy, sell, let or rent as well as land opportunities and new homes. The larger space will also allow us to expand on our financial services options, conveyancing solutions and bespoke investment services for property investors.
Our Bridges Fleet office is well placed to service this popular and thriving area which is a hive of activity and highly sought after by local and national buyers and tenants.
The Bridges Fleet office was originally established in October 2012 and has successfully sold and rented 100's of properties across Fleet and Church Crookham since we first opened our doors nearly 10 years ago. The team in our current Fleet office have many years of experience in the area and are led by Dale Ballard, who is born and bred in Fleet and still lives locally with his family.
Carlo Stocchetti, Group MD said of the office expansion "Our plans to increase our footprint in Fleet allows us to grow to meet with demand. With our new, larger office we can continue to offer the Fleet and Church Crookham locals 5-star customer service, powered by a driven, proactive team with access to the most forward-thinking property technology that is offered in the industry in a modern, spacious environment"
Since we opened our doors to our first office in Ash Vale in 1991, we have been focused on providing our clients with a 'no-fuss' professional service to anyone looking to buy, sell, rent, let or develop residential properties – with customer service and experience being at the heart of everything we do whilst making relationships within the community to enable us to give something back – working with local schools and charities has always been a strong part of our ethos.
The Bridges Group have gained a reputation with our heart-shaped boards and eye-catching billboards to be a colourful, dynamic, enthusiastic estate agency that will always offer a 'can-do' approach to moving home.
If you would like to know more about our expansion in Fleet or about moving in the local area, contact our team today – 01252 628800.
VALUE MY PROPERTY TODAY
Lets get started! Our valuations are based on our extensive knowledge of the whole of the market.
Get a valuation